BIRMINGHAM, Alabama – Before Breaking makes its debut as an Olympic DanceSport at the 2024 Olympics in Paris, France, athletes from around the world will compete for gold, silver and bronze in Breaking at The World Games 2022 in Birmingham, Alabama this July.
Breaking will not be the only exciting dance sport at The World Games 2022.  The sports program for TWG 2022 also includes three other dance disciplines: Latin, Standard, and Rock 'n' Roll.
The competition will be held at Sloss Furnaces, a National Historic Landmark that operated as a pig-iron producing blast furnace from 1882 to 1971.  What will be blasting from Sloss Furnaces during the Break competition is heart-pounding music as athletes face off in one-on-one dance battles that showcase their nimble footwork, coordination, fitness, and acrobatic moves.
"I think my style is pretty dynamic.  However, it seems that the one thing people talk about and notice the most about the way that I dance is that I'm always smiling," said Sunny Choi, a break dancer originally from Cookeville, Tennessee, and a top finisher at the World DanceSport Federation's 2021 Breaking Championship.  "Breaking, particularly in battles, tends to be very aggressive and confrontational so it's not very common that you have dancers on stage who are smiling!"
The Latin portion of the competition will include the five traditional dances: Samba, Cha Cha, Rumba, Paso Doble and Jive.  Standard will feature: Waltz, Tango, Viennese Waltz, Foxtrot and Quickstep.  The Rock 'n' Roll dance will be fast-paced and includes jumps, throws, and flips.  The Latin, Standard and Rock 'n' Roll competitions will take place in the newly renovated Legacy Arena of the Birmingham-Jefferson Convention Complex.
All the disciplines require incredible stamina, agility, strength, coordination, balance, and mental resilience – in a word, athleticism.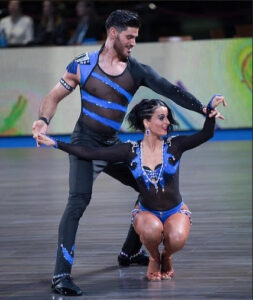 "Let there be no doubt, these are world-class athletes who will be competing in Birmingham.  You must be an elite dancer and undergo years of rigorous training to compete at this level," said Nick Sellers, CEO of The World Games 2022.
Among those amazing dance athletes scheduled to compete at TWG 2022 are Anna Matus and Gabriele Goffredo, representing Moldova.  The married couple have won 79 dance sport events in their competitive career, currently hold six world championship titles, and will be looking for their third consecutive World Games gold medal when they compete in Birmingham. The pair won gold in Latin dance at The World Games 2013 in Cali, Colombia and The World Games 2017 in Wroclaw, Poland.
The World Games 2022 Birmingham is the new generation of global sport competition, welcoming elite athletes from all over the world to compete for gold in 34 unique, multi-disciplinary sports.  Featuring 3,600 athletes from more than 100 countries, the international event will unite global fans with the Birmingham community in 25+ venues around the greater metropolitan area.  The World Games 2022 Birmingham, which marks the 40th anniversary of the event, will take place from July 7-17, 2022, and will generate an estimated $256 million in economic impact.  United States World-qualifying Latin and Standard events were held in at USA Dance's American DanceSport Festival, https://youtu.be/lL_yNM4F30k, October 2021in Fort Lauderdale, Florida.  Note: Future American Dancer articles will cover the United States representatives to TWG.  
This information is part of TWG 2022's "Road to Birmingham" series presented by Storyteller Overland.  To watch a video presented by Storyteller Overland about DanceSport at The World Games 2022, click here.  For more information about DanceSport at TWG 2022, including the schedule of competitions, visit https://twg2022.com/sports/dancesport/.  
The World Games was established by the International World Games Association, an organization recognized by the International Olympic Committee.  The World Games 2022 is organized with the support of the International Olympic Committee.  For more information visit TWG2022.com or find us on Facebook, Instagram, or Twitter.