What is a Senior IV?  Good question…sounds pretty "up there", doesn't it?  It's an age category in competitive dancing where one member is at least 65 and the other member is at least 60.  What are you picturing? 
So, let's set the tone:  amazing athletes, beautiful dancers, disciplined minds, hard-working ethics, graceful movement, skilled leaders, perfect followers, great teamwork, gorgeous frames, and fierce FIERCE FIERCE COMPETITORS! 
USA Dance is pleased to announce the United States' results at the World DanceSport Federation (WDSF) Senior IV Standard World Championships in Rotterdam, Netherlands, on Friday, October 13.  USA Dance sent six couples to represent the United States at this Championship event which included 120 couples in a highly competitive field.  And the couples did not disappoint!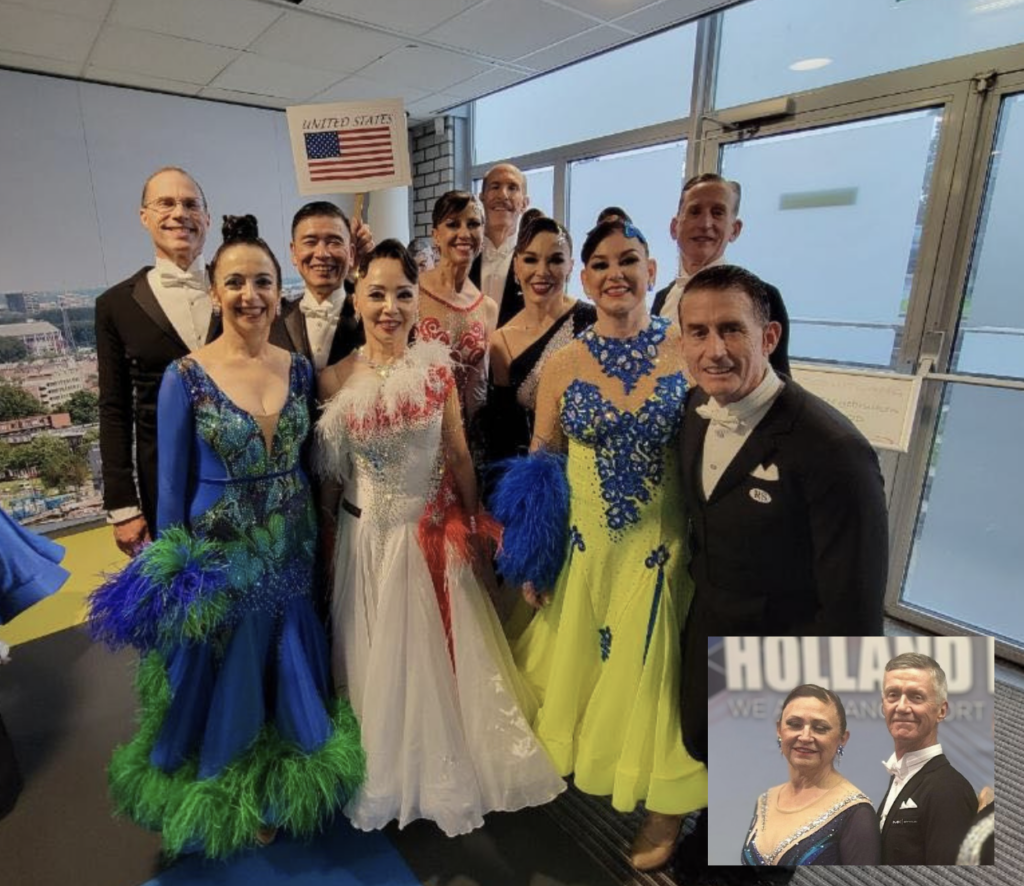 USA Dance's David Getchell & Allison Gonzalez not only made the final, they made the podium with a 3rd place, claiming the Bronze Medal for the United States.  Close behind them were Eric Austin & Yanina Kisler, who danced their way into the semifinals and came in 13th. Our remaining four couples — Rich & Paula Abney, Thomas Keller & Evelyn Lafferty, Terry & Glenda Yeh, and William & Carolyn Pedrick — also danced beautifully and placed admirably.
What does it take to get through a World Championship?  It starts with registration through USA Dance, hotel and flight arrangements, figuring out what to wear, traveling to the designated country with your dance attire in a carry-on, finding a place to practice once in the country, getting acclimated for a few days, registration the night before, hair and makeup for the lady, changing in one large (not-gender-specific) changing room, warming up, and being ready to take to the floor.  Heats are posted on the wall and displayed on a screen for the dancers – everyone checks it at least three times.  Announcements are made in the host language and English (the selected language of WDSF).  For each round, the couples are assigned to random heats for each dance.  All dance their first Waltz, then all Tango, all Viennese Waltz, Foxtrot, and Quickstep.  For this particular event, there were six rounds, plus a "re-dance".  (Note: a re-dance allows couples, who did not automatically advance to the second round, a chance to dance again and be reconsidered for a remaining set of slots into the round.)  The first cut (including the re-dance) was down to 96 dancers, then 48, 24, 12, and finally the top six.  Dancers were challenged to stay fresh, hydrated, stretched, warmed up, and perform their best.  
When David & Allison started their final round, they had already danced 25 dances at full power.  But this highly experienced couple had been in this kind of position before and knew what to expect. 
"Our first WDSF World Championship was Senior III in Rimini, Italy, in 2016, where we learned a lot and did not place well," explained David & Allison.  "We were impressed by the huge numbers of dancers (402 couples that year), their high level of dancing, and their strong competitiveness!   2018 brought our first big success with WDSF when we made the podium in 3rd place in the German Open Senior IV competition.  A year later, in 2019, we made the final in our first WDSF World Competition for Senior IV!"
David & Allison are United States' staples at international competitions and all that experience culminated in this great success for themselves and our country.  Their well-earned 3rd-place finish came behind Italy's Roberto Furlan & Daniela Sattin (Gold medal) and
Austria's Michael Pauser & Claudia Molecz (Silver medal).
This year's Senior IV event was hosted by the Holland Masters at Topsportcentrum, a large recreation center in Rotterdam, Netherlands.  International-traveling dancers are always excited to go to the Holland Masters, as it is a huge, well-organized event, with many competitors, on a large floor, in a great city, and during a lovely time of year.  This year, along with the WDSF Senior IV Standard World Championships, the Holland Masters hosted the WDSF Senior II Latin World Championships, and WDSF Youth Standard European Championships.
"We were, of course, honored to represent the United States at the Senior IV Standard World Championship in Rotterdam, and to be the American flag bearer for the opening ceremony parade of nations," explained Eric & Yanina.  "And the experience was multiplied by having five other couples from the United States in the same event.  This gave us the opportunity to catch up a bit, and to watch and cheer for them.  We also saw couples from Canada, Germany, Italy, and other European countries whom we have become friendly with, after meeting them at various competitions over the years."
These six Senior IV couples represented the largest contingent sent from the United States to the 2023 World Championships.  It was their chance to test their skills against the best in the world in their age group.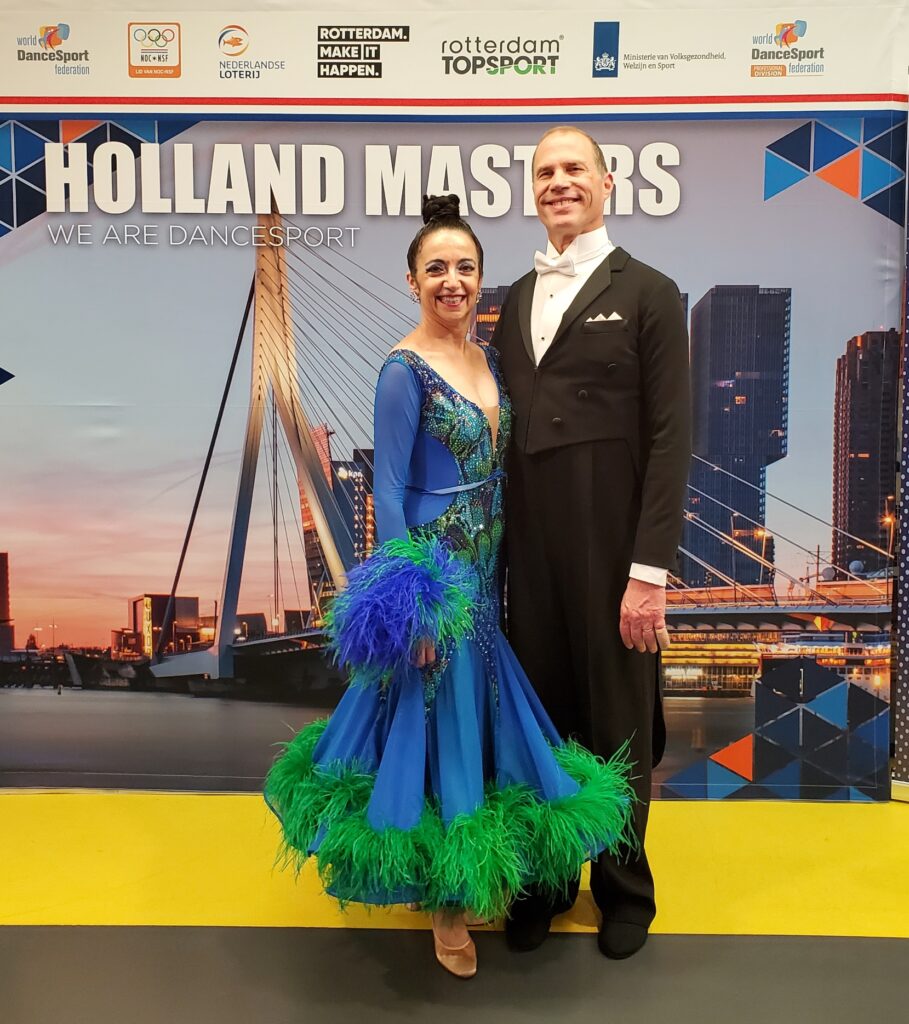 "Large competitions in Europe are a very different experience from anything we find at home, and it is well worth trying them," explained Eric & Yanina. "In addition, it was inspiring to see the Senior V standard competition, a relatively new category for WDSF for couples over 70, and to watch the Youth Standard European Championship being held interleaved with rounds of our event. The Senior V competition showed that we can continue to dance and compete for many more years.  In the Youth championship, some of the couples are still working on their polish and control, but they had so much energy…it splashed all over the crowd bringing everyone up to clap and cheer."
So, what do you suppose highly successful couples do when they finish dancing in such an event?  Sightseeing? Spa? Perhaps a bottle of champagne with a lovely meal?  Not David & Allison.  Instead, they went to practice and danced in the WDSF Open against 67 other couples, two days later.  And…THEY WON IT!  On the floor with them were Terry & Glenda and William & Carolyn, who gave the United States another great set of dances.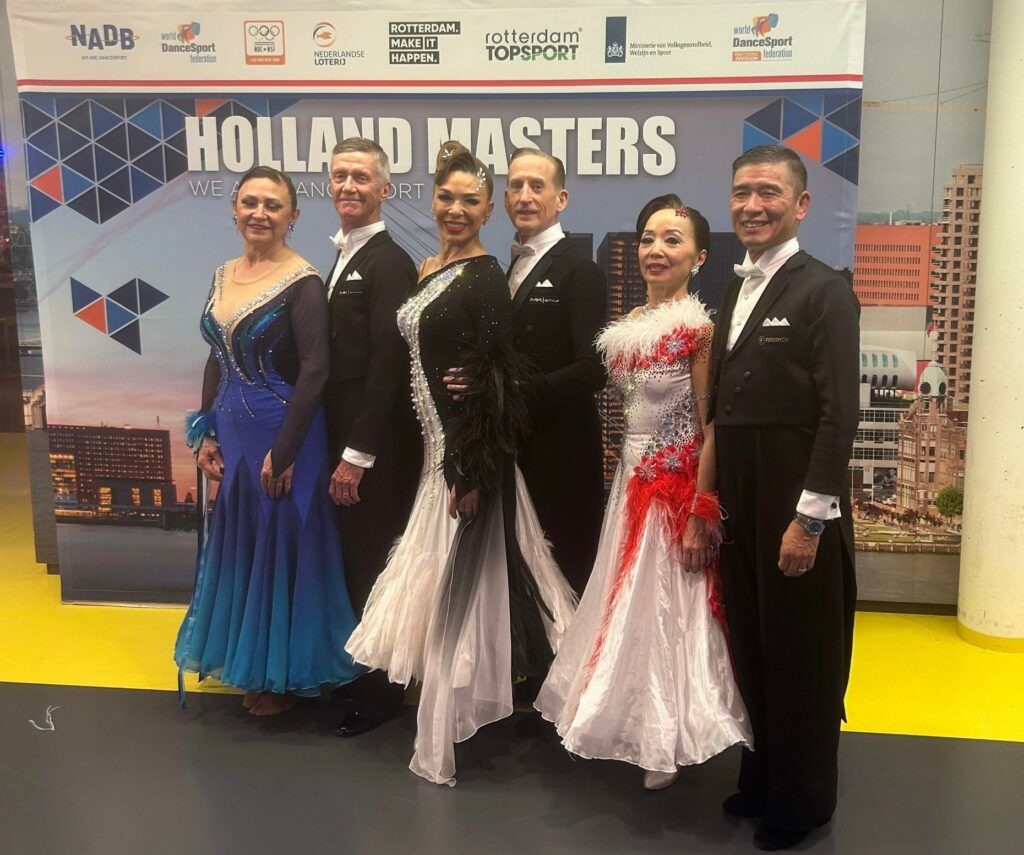 Overall, USA Dance has a lot to be proud of in these six Senior Couples, who proved that the United States is a force to be reckoned with in Ballroom.  Congratulations to David & Allison, Eric & Yanina, Rich & Paula, Thomas & Evelyn, Terry & Glenda, and William & Carolyn.  Thank you for representing the United States so very well!