The USA Dance National Championships concluded late Sunday night, March 19, 2023.  It was a huge success and a lot of fun.  Did you miss it?  OK, then let's recap it for you.
The National Championships were held at the Hyatt Regency St. Louis at The Arch, in St. Louis, Missouri, March 17-19.  The event, organized by Sharon Ann Durocher with Sterling Sightler as her Registrar along with the Nationals Committee, hosted 584 competitors to make up 385 events and 1800 entries.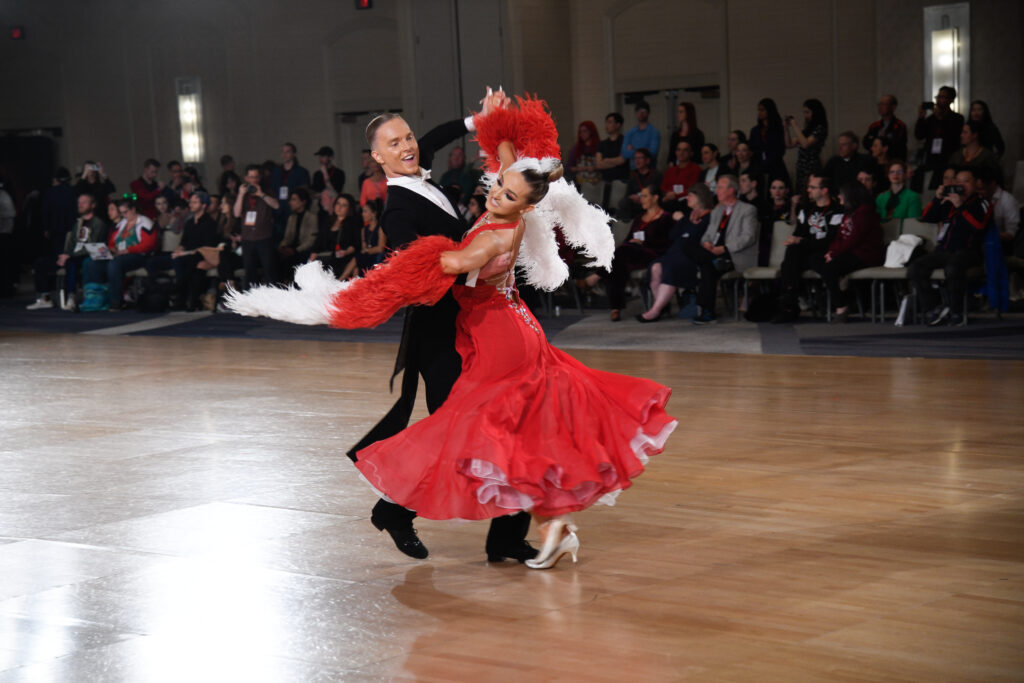 The hotel, which was right next to the famous St. Louis Arch, proved to be a great venue, supporting a large ballroom with plenty of seating for screaming spectators and a great layout for the rest of the competition.  Dancers were also treated to a large practice floor in a room adjacent to the ballroom, which allowed for easy access to the main ballroom and music.  Registration and Vendors — Designs by Riveras, Love Image Studio by Kris, Lashes and Brushes, Showtime Dance Shoes, Totally Addicted to Dance, the USA Dance Consignment, and Dance Production House — were well placed and easily accessible just outside the ballroom.
The hotel was well prepared with a large breakfast and lunch buffet, as well as two separate restaurants.  For those, who chose to venture out into the streets of St. Louis, the dining opportunities were extensive.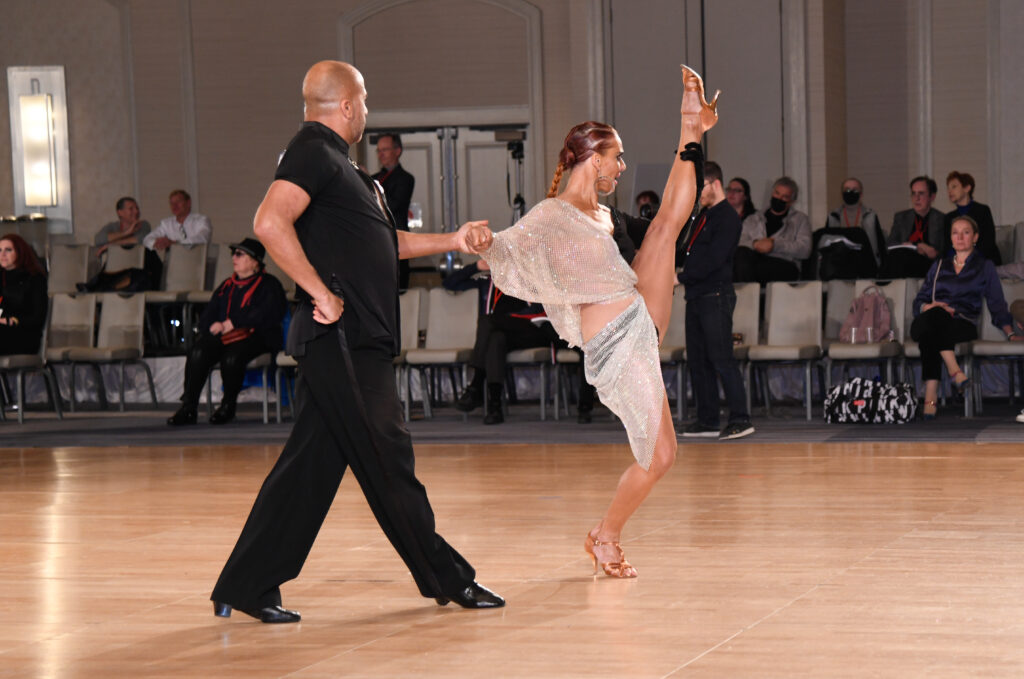 The competition was well organized and orchestrated.  Events started at an early 9:00 a.m. on Friday morning — St Patrick's Day — with the Pro/Am Lead Junior Open Silver International Waltz, and ran late into the afternoon.  Opening ceremonies were held at 6:00 p.m., Friday night, with a welcome address by USA Dance President Ken Richards.  Then the evening session was in full swing with the Senior III Championship Standard leading the charge and the dancing continuing to well past midnight with the conclusion of the Professional Smooth Championship round.  Dancers were bubbling with excitement until they realized that Saturday was starting even earlier.  Saturday at 6:00 a.m. the floor was already active and at 7:00 a.m. the first Amateur Bronze couple started their day of competition.  Saturday's activities also went past midnight, this time with the Professional Championship Standard closing out the evening.  But the enthusiasm was only starting.  On Sunday morning, the Collegiate Bronze Standard first round started at 7:00 a.m., and the excitement did not let up for the rest of the day!  Although Sunday night's activities were scheduled to end around 11:00 p.m., they went strong until almost midnight again, when the final Champions were medaled.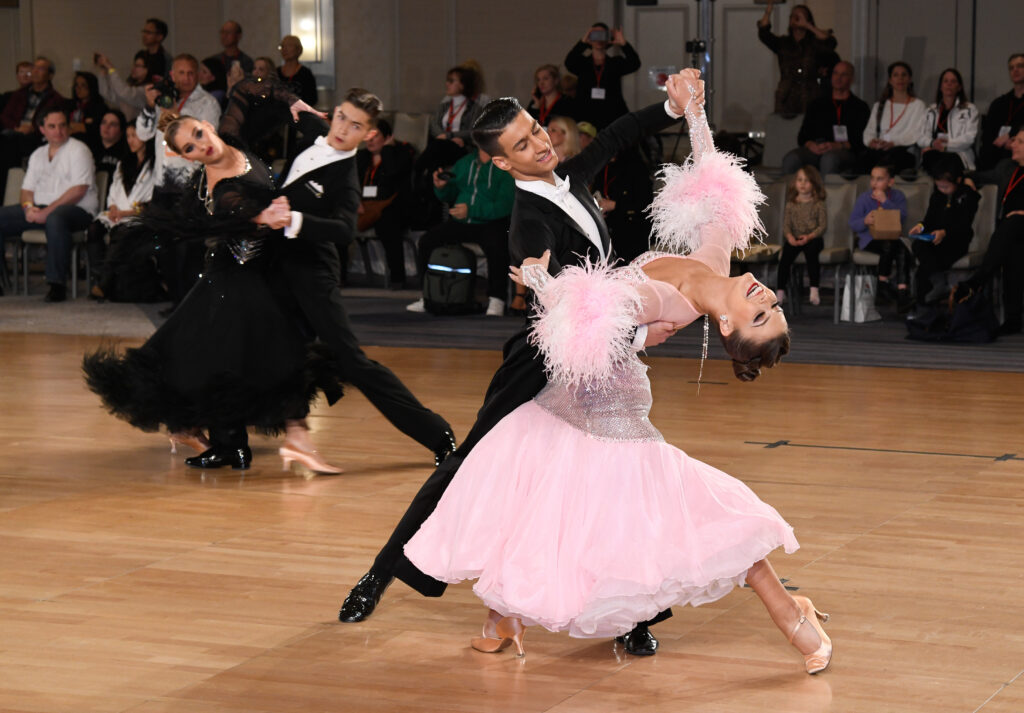 Co-Chairs of Adjudicators "par excellence" Dan Calloway (Maryland) and Sami Yli-Piipari (Georgia) were the epitome of efficiency.  They masterfully supervised the flow of events, were able to observe and rectify any anomalies, and allowed nothing to catch them by surprise. 
Joining Dan and Sami as Adjudicators were:
Ilya Barmotin (New York)
Hannah Cole (New Mexico)
Viktoriya Drubetskaya (New York)
Dana Edwards (Ohio)
Shawn Fisher (Idaho)
Sandra Fortuna (New Jersey)
Lee Fox (Florida)
Peter Horacek (Slovakia)
Vano Kandelacki (Georgia)
Aleh Kulyba (Massachusetts)
Denis Kutepov (California)
Ismet Muftuoglu (Turkey)
Patti Panebianco (New York)
Wojciech Potaszkin (Ireland)
Renata Shvarts (New York)
Lesya Sinista (California)
Alina Spencer (Georgia)
Phillip Stephens (Texas)
Irina Trebunskaya (California)
Emanuel Valeri (Denmark)
Katusha Wilder (New Jersey)
Yuehwern Yih (Indiana)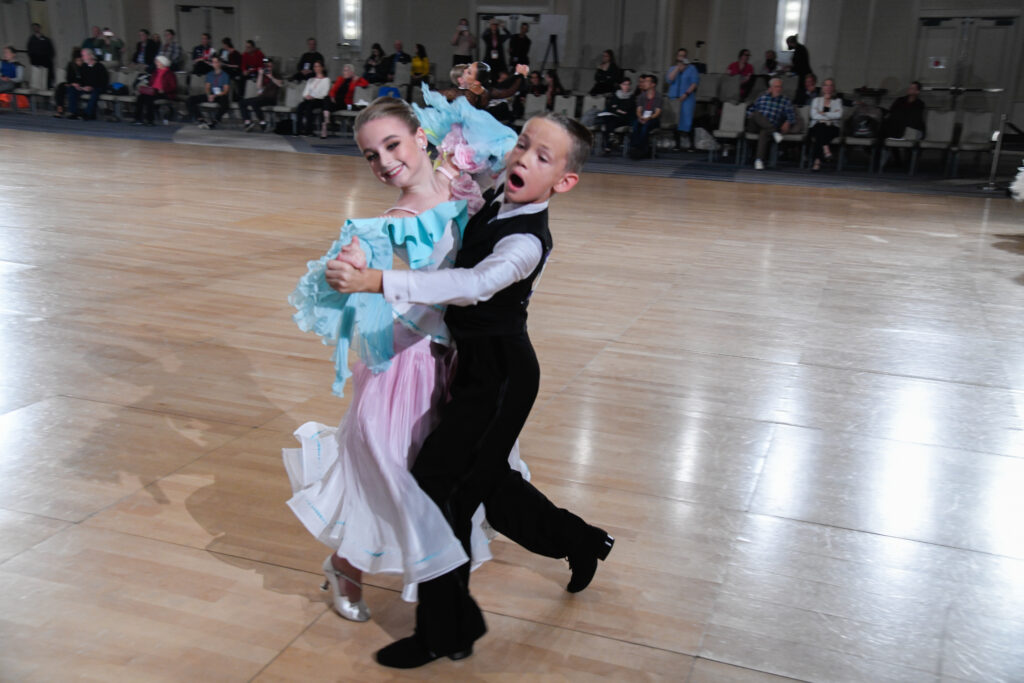 Co-Emcees for the event were Van Hoang and Ricky Semlitz, with Music provided by Todd Wakefield, assisted by Celeste Fisher.  The ever-busy and running Deck Captains were Jack Jaubert and Martin Smith.  Scrutineer was the ever-organized Daniel Dilley, and the DanceSport Rules Observer (DRO) Lead was USA Dance favorite Myra Coffield.
Of course, the attention was on the dance floor with the many beautiful dancers, young and young-at-heart, dressed to the nines and doing what they love – dancing hard.  The four dance styles – International Standard, International Latin, American Smooth, and American Rhythm were danced at all levels by all ages, and everyone was determined.  The dancing was beautiful, exciting, and – in the case of the collegiates – loud.  I mean Loud.  No, I mean REALLY LOUD!  Registrar Sterling Sightler reported 208 collegiates this year, who danced 45 collegiate events, as well as Adult events.  Of course, the decibel-raising event was the Multi-Event Collegiate Open International Team Match on Sunday afternoon, when 16 teams went head-to-head for boasting rights.  In the end, this year's top three teams were:  1st place – Team 06 from Purdue University, 2nd place – Team 11 from Georgetown University, and 3rd place – Team 17 from Hoosiers, Indiana University Bloomington.  Other schools that participated this year included: the University of Minnesota, Georgia Tech, the University of Houston, and the University of Illinois.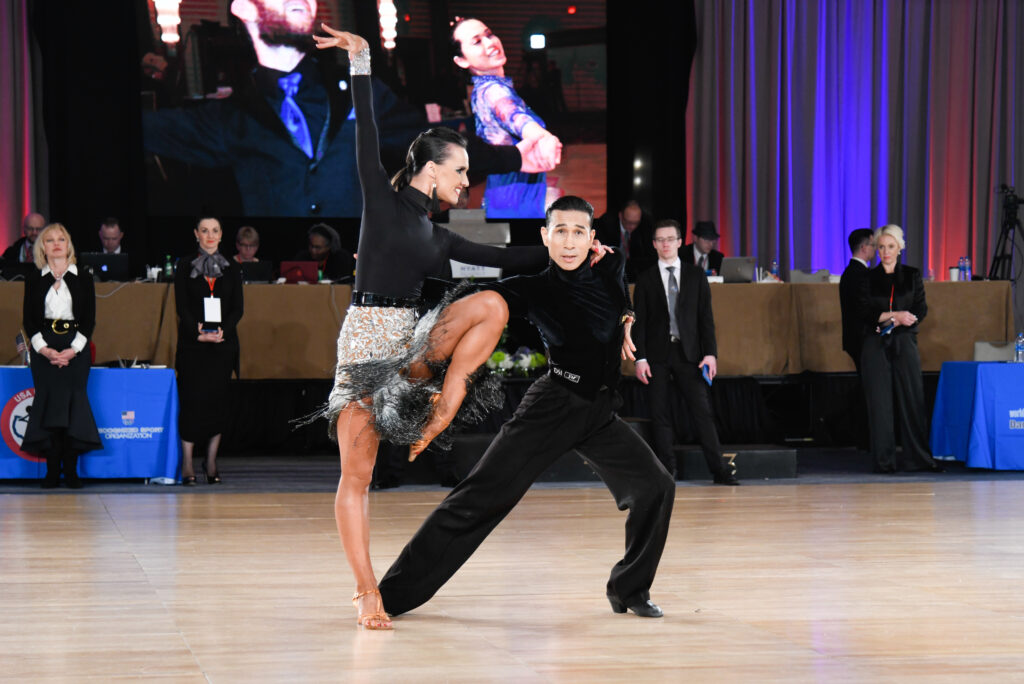 This three-day National Championship was a unified ballroom event, which included:  Amateur Athletes, Collegiates, Pro/Am, Teacher/Student, Solo Proficiency, and Professional Championships.  It also included a Chapter Leadership Conference, Social Dance, and USA Dance Academy offerings – WDSF Adjudicators Congress, nine workshops, and private lessons with accomplished Professionals.  Events were enriched through contributions, including a generous $10,000 donation from Vivian Beiswenger and Cunard Cruise Lines.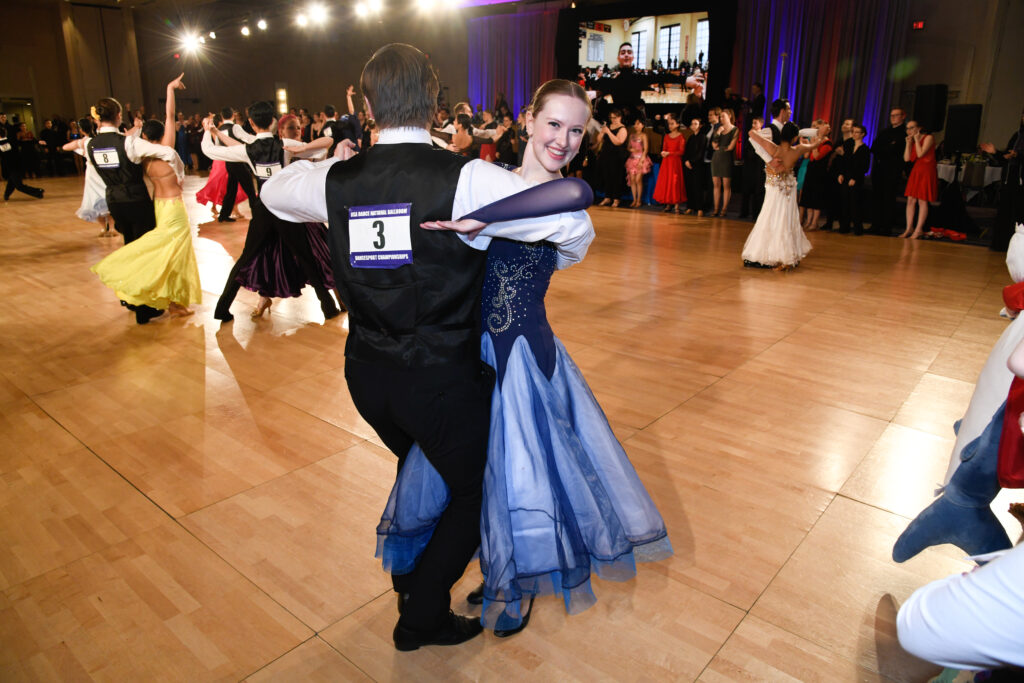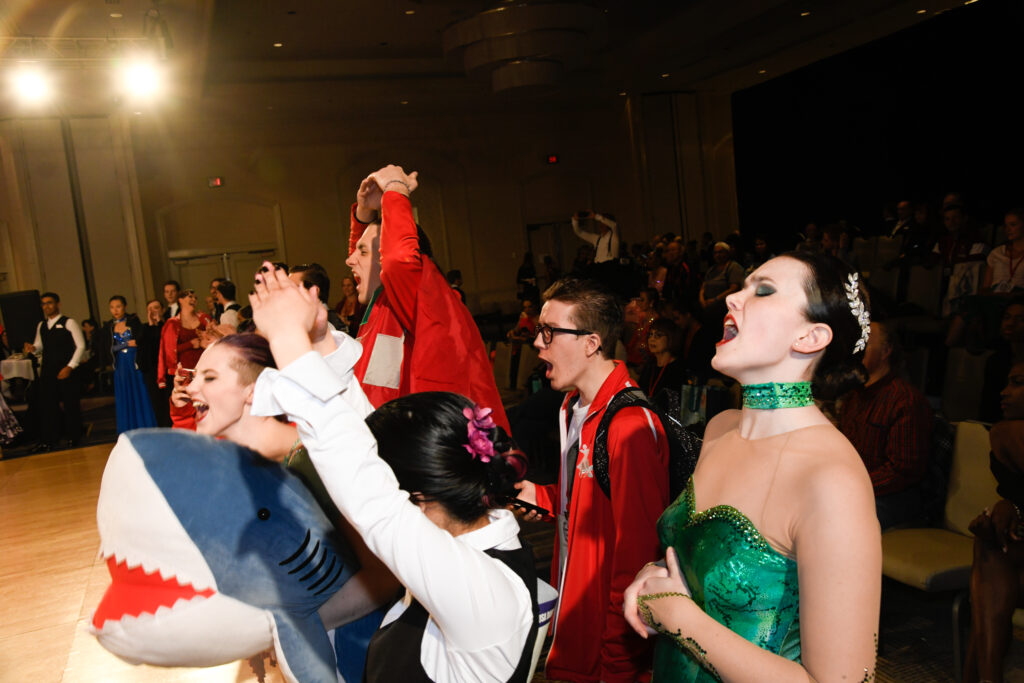 In the end, the victors of each level took their bows, medals were awarded, donated scholarships were provided, photos were taken, and hugs were plentiful.  A full list of the 2023 Professional and Amateur Championship results is in the attached carousel or on the O2CM results page.
How do you sum this all up?  It is hard to describe the hundreds of dancers, hundreds of spectators, hundreds of dresses, hundreds of suits, hundreds of hairstyles, hundreds of songs, hundreds of ribbons, hundreds of medals, thousands of volunteer hours, thousands of lessons, thousands of memories, and thousands of friends.  It was Fabulous!  Thank you to the USA Dance Leadership, all who organized, volunteered, coached, danced, and watched.  See you next year!
American Dancer is still processing photos with our fabulous photographer Carson Zullinger.  Check back for more updates.