The United States had a strong showing on the 2022 World DanceSport Federation (WDSF) World Championship dance floor, with some of our USA Dance athletes scoring personal bests, making the finals, and medaling.  American Dancer is happy to bring you the final United States rankings of each event.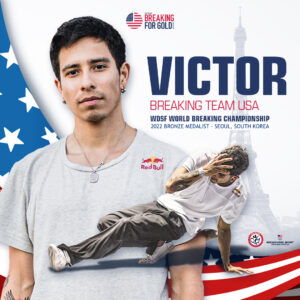 The bragging rights go to the couples and individuals who made the finals or top seven in their highly competitive events.  The USA had one couple who came in second in the World.  Senior II 10-Dance couple Gokturk Yurtyapan & Asli Yurtyapan came in 2 of 20 couples in New Orleans, Louisiana, United States in November.  This Silver Medal was the top 2022 result for the United States. 
Breaking also had huge accomplishments.  B-Boy Victor – Victor Montalvo brought home the Bronze Medal, placing a tremendous 3 of 192 competitors at the Breaking World Championships in Seoul, South Korea.  Close behind him were B-Boy Gravity – Miguel Angel Rosario, who came in 6th; and B-Boy Jeffro – Jeffrey Mike Louis, who placed 7th.  The Breaking Girls also came ready for the showdown, and B-Girl Sunny – Grace Choi took the United States' top spot at 7 of 114.  That was quite a show of the United States Breaking skills in Seoul!  Of course, we all know they are preparing for the 2024 Olympics in Paris!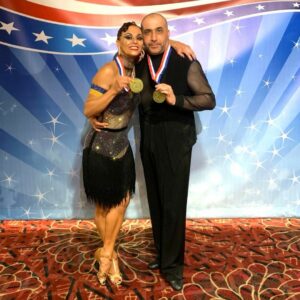 Rounding out our World finalists were: Senior II Latin couple Anatoliy Shvarts & Tatiana Keegan, who scored an impressive 5 of 71 in Platja d'Aro, Spain; and Latin Show Dance couple Alessandro Scalora & Madeleine Mravkarov, who came in 6 of 15 in Muelheim an der Ruhr, Germany.
The WDSF World Championships are held each year at different sites around the globe.  This year's events included sites in Europe, South Korea, Canada, and the United States, and were held from May to December 2022.  Some USA Dance athletes competed in more than one event and traveled to each of those separately. 
Our Championship-level athletes were all eager for the opportunity to represent the United States and to compete with the best in the World.  Countless hours of coaching, practicing, nursing injuries, qualifying, and competing went into the preparation of these events.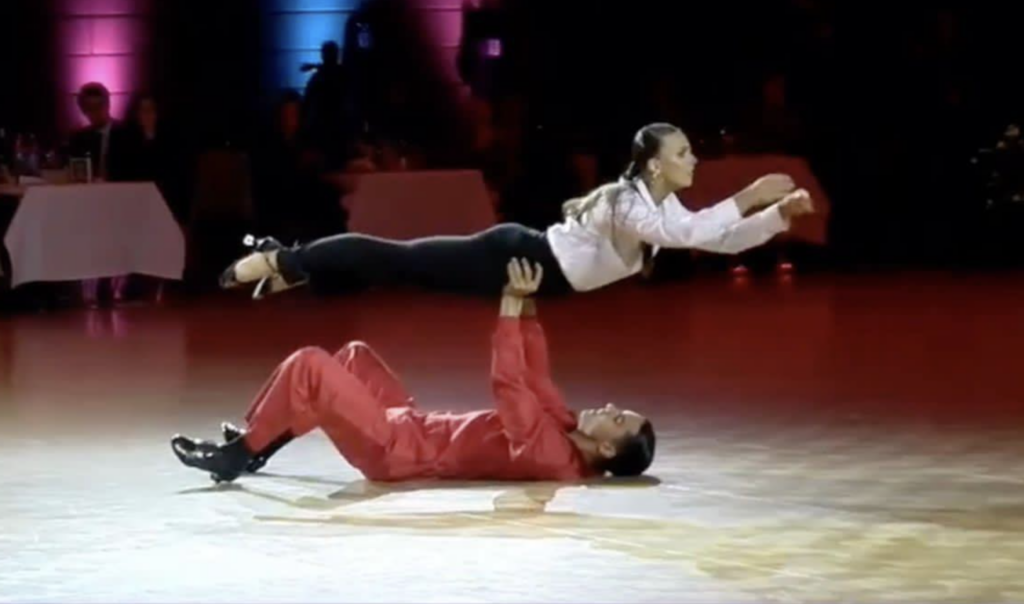 Although the 2022 WDSF World Championships have concluded, our athletes are already preparing for the USA Dance National DanceSport Championships which will lead to the next series of World Championships.  The 2023 Nationals will be held in St. Louis, Missouri, 17-19 March.  In the meantime, the 2023 WDSF calendar is already populating and can be found at: https://www.worlddancesport.org/Event/Granting/2023.
It is a long, hard road to World Championships.  Congratulations to all USA Dance 2022 WDSF World athletes.  Thank you for representing the United States so well!   
Junior II Latin:
Henry Reizenson & Elita Rothman (28 of 66)
Jordan Palmer & Finley Severance (40)
Junior II Standard:
Jordan Palmer & Finley Severance (38 of 59)
Mark Burenko & Nicole Popov Spektor (41)
Junior II 10-Dance:
Jordan Palmer & Finley Severance (21 of 30)
Youth Latin:
Brock Montgomery & Charli Ana Montgomery (50 of 60)
Anthony Michael Katchourine & Liza Belikov (56)
Youth Standard:
Christopher Affonso & Holly Hatleberg (41 of 57)
Anthony Michael Katchourine & Liza Belikov (43)
Breaking B-Boys:
B-Boy Victor – Victor Montalvo (3 of 192)
B-Boy Gravity – Miguel Angel Rosario (6)
B-Boy Jeffro – Jeffrey Mike Louis (7)
B-Boy Morris – Isby Morris (22)
B-Boy Frankie – Frank Felix Perez Jr. (53)
B-Boy El Nino – Alexander Raimon Diaz (74)
B-Boy Valencio – Valencio Alberto Martinez (90)
Breaking B-Girls:
B-Girl Sunny – Grace Choi (7 of 114)
B-Girl La Vix – Vicki Emily Chang (44)
B-Girl Pep-C – Carmarry Hall (63)
B-Girl Snap1 – Brianna Pritchard (85)
Under-21 Latin:
Alessandro Scalora & Madeleine Mravkarov (32 of 88)
Under-21 Standard:
Alessandro Scalora & Madeleine Mravkarov (38 of 63)
Christopher Affonso & Holly Hatleberg (48)
Under-21 10-Dance:
Alessandro Scalora & Madeleine Mravkarov (17 of 25)
Latin Show Dance:
Alessandro Scalora & Madeleine Mravkarov (6 of 15)
Adult Latin:
Artsiom Pazniakou & Daria Goryaynova (35 of 65)
Salvatore Bonfardeci & Kiana Barlow (51)
Adult Standard:
Dennis Matveev & Anna Jonczyk (41 of 59)
Adult 10-Dance:
Dennis Matveev & Anna Jonczyk (26 of 33)
Sr I Standard:
Gokturk Yurtyapan & Asli Yurtyapan (15 of 38)
Eugene Lobko & Alla Zemlyak (22)
Sr II Latin:
Anatoliy Shvarts & Tatiana Keegan (5 of 71)
Gokturk Yurtyapan & Asli Yurtyapan (16)
Denis Kojinov & Jeanette Chevalier (66)
Sr II Standard:
Gokturk Yurtyapan & Asli Yurtyapan (19 of 88)
Denis Kojinov & Jeanette Chevalier (77)
Sr II 10-Dance:
Gokturk Yurtyapan & Asli Yurtyapan (2 of 20)
Denis Kojinov & Jeanette Chevalier (15)
Carmine Rucco & Maria Luz Bolyard (16)
David McNish & Rhonda McNish (17)
Richard Richards & Rita Snyder (17)
Edward Brennan & Cecilia Wang (17)
John Linn & Kathy Linn (17)
Sr III Latin:
Wade Butaud & Kim Butaud (24 of 86)
Leland Andrew Prouty & Ilona Prouty (27)
Sr III Standard:
Mike Lynch & Rose-Ann Lynch (28 of 157)
Eric Austin & Yanina Kisler (40)
Yusuf Mihaylov & Elena Simonova (44)
Arkady Dudko & Lena Dudko (100)
Sr IV Standard:
David Getchell & Allison Gonzalez (19 of 122)
Terry Yeh & Glendy Yeh (37)
Song Kim & Nicole Suh (57)
Thomas Keller & Evelyn Lafferty (57)
Thomas Malinowski & Renee Malinowski (89)
Professional Latin:
Mishiko Bregvadze & Alena Khoroshevtseva (9 of 18)
Professional Standard:
David Fan & Megan Bliss (17 of 19)
Professional 10-Dance:
Daniel Rubashevsky & Anastasiya Rubashevsky (7 of 10)