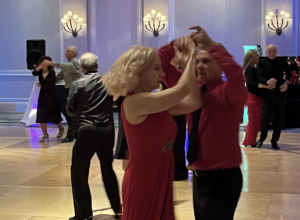 There was a loud cheer from the crowd as John Galle, President of USA Dance Tidewater Chapter #6008, welcomed the dancers to the first of three evening dances at the Gala. After two long years of pandemic shutdown, the Gala was back!
From the morning of December 29 to past the stroke of midnight on New Year's Eve, the USA Dance Tidewater Chapter held their 31st annual New Year's Eve Gala. The three-day, three-night whirlwind celebration of dance featured a packed schedule of 63 workshops, 21 performances, and a combined 16 1/2 hours of social dancing on a 5000-square-foot dance floor. If there ever was a way to ring in the new year with a satisfying mix of glamour and carefree, energetic fun…this was it!
The Gala was held at the elegant Renaissance Portsmouth-Norfolk (Virginia) Waterfront Hotel, overlooking the Elizabeth River and the bright Norfolk skyline beyond. Attendees were able to book hotel rooms at a reduced rate for the duration of the event and rested up after each full day of dancing. In addition to locals and chapter members from the Hampton Roads, Virginia, area, dance enthusiasts came from across the United States (12 states), Canada, and even Europe to enjoy the festivities. Two USA Dance national board members also attended the event: Phil Sisk, as Gala Emcee, and special guest USA Dance National President Ken Richards.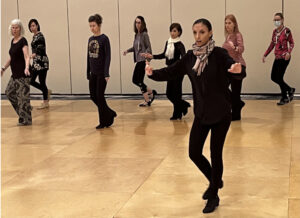 The program for each day kicked off at 9:30 a.m. with three sets of three concurrently running dance workshops, each lasting for 45 minutes and taught by dance professionals from Hampton Roads, North Carolina, Tennessee, and Florida, including Simone Spadoni and Simona Spadoni, Jordan Jewell, Katja Harris, Cameron Johnson, Marie Rants, Martin Smith, Bob Bahrs, Joe Hasson, Brad Wanzor, Steve Kirvan, Alan Hedgpeth, and Cindy Norge. Dancers could also take private lessons with available professionals alongside the workshops, taking advantage of the Renaissance's spacious main ballroom.
After an hour's break for lunch, the workshops kicked back into gear at 1:30 and ran one after the other until ending at 5:15. At 6:30 p.m. the doors to the main ballroom reopened for the evening social at 7 p.m. on all three nights.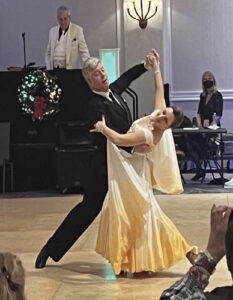 Each night's social dance featured music by Williamsburg, Virginia, dance instructor and DJ Alan Hedgpeth. Each night ran one hour later than the previous night — Thursday went until 11:00 p.m., Friday until midnight, and New Year's Eve rocked with a customary midnight countdown and champagne toast until the early morning hour of 1:00 a.m.
The Renaissance Hotel catered the Friday and Saturday evening socials with a smorgasbord of delicious dishes, replete with a pastry and dessert counter, as well as a wine and cocktail bar. The dinner was set up in a buffet style and replenished as needed, so attendees could sit back with another course and enjoy the display of moves on the dance floor.
Between the social dancing on all three nights, guests were treated to a lively lineup of performances from Professionals and Amateur students from across the region and around the world.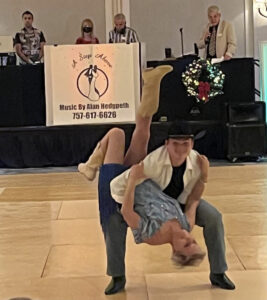 Married Amateur couples Joe and Linda Hertzler, Dave and Karen Ambrose, and Shelly and Joe Brogan dazzled the audience with genuine chemistry that came from the heart, while Ken Reinschmidt and Katja Harris showed off a different kind of chemistry in the "Masochism Tango" that had the audience erupting in laughter at every new phrase. Performance couples went all-out working inventive props and costumes into their performances, such as Marie Rants and Dave Ambrose stopping between Cha's in their "Fireball" Cha Cha to throw back shots of Fireball cinnamon whisky, shortly before Rebekah Klyukin and Chad Jackson strutted onto the floor decked out in matching Elvis getup to Mambo to "Such a Night."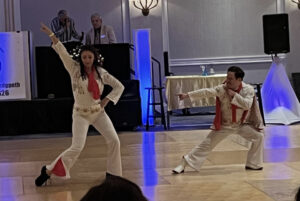 As entertaining as each performance was, the undisputed treat of the event was the New Year's Eve social, where attendees were lucky enough to witness five Professional performances: a Cha Cha, Rumba, and Paso Doble from Simone Spadoni and Simona Corporale, and a Foxtrot and Quickstep by Ukrainian Champions Denis Parfyonov and Tatiana Sopit. The already-breathtaking routines by Denis and Tatiana were made even more remarkable when the nearly 200 assembled guests learned how lucky they were to witness the performance, as Denis and Tatiana's Kyiv studio was recently destroyed in a Russian bombing attack. The couple now teach and perform at Ken Richards' Blue Ballroom Dance Studio in Wilmington, Delaware, and the American dance community is lucky to have them. Fearless, poised, and powerful, they floated across the floor as one to a standing ovation from the crowd.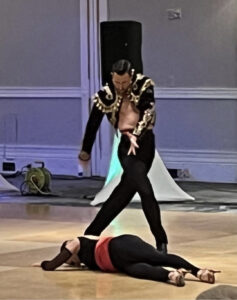 The Gala was well attended, and the ballroom swelled from 140 people on Thursday, to 150 on Friday, to over 170 on New Year's Eve. They came to start dancing again; to learn new moves; to show up and show off in their best dresses, tuxedos, military dress uniforms, and dance costumes; and to meet friends new and old. But no matter why they came, each surely left with full hearts, full bellies, well-worn-out legs, and enough memories to fill a grand ballroom.
It's safe to say that the Tidewater Chapter's New Year's Eve Gala is back in business and remains one of the premier USA Dance events of the year.  So, mark your calendars for next New Year's Eve as the show goes on.
The USA Dance Tidewater Chapter would also like to give a special thanks to all of the local dance studios that came out to support, including DanceSportVA, A Time To Dance, Rants Ballroom, S & S, 7 Cities, and Country Bootleggers. Also, this event would not be possible without volunteers Bonnie Hackett, Becky Amarell, Keith and Ann Lansley, Jane Orr, Donna Campbell, and Dawn Hamrick. A huge thank you also to Jay Brooks for securing and setting up the Renaissance's Hospitality Room for all the workers and professionals, to Bob Bahrs for the Herculean task of supplying and laying the dance floors for the 5000-square-foot main ballroom as well as for the two floors downstairs, and to the Renaissance Hotel staff for the lovely food and hospitality at your beautiful venue.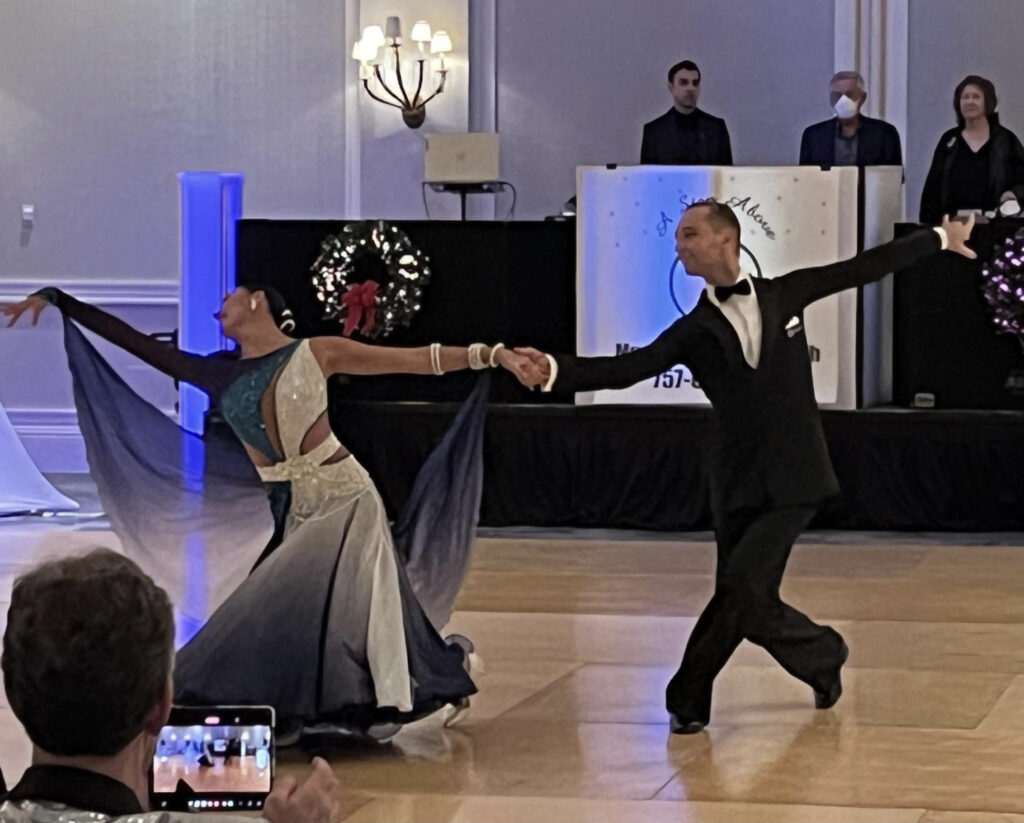 This event was planned months in advance by the USA Dance Tidewater Chapter Board, including President John Galle, Vice President Jay Brooks, Treasurer Robin Orr, Secretary Cherie James, Membership Director and USA Dance National Nomination and Selection Committee Member Martin Smith, as well as by Board Members Tim Hackett, Christine Bontempi, Deborah Hamilton, and this humble author.
From all of us at the Tidewater Chapter, we wish you an excellent 2023 and hope to see you back at the 2023-2024 Gala. Make sure you save the dates.
C'MON Let's Dance!
Matt Kasturas originally hails from West Milford, New Jersey. He first fell in love with ballroom as a member of the competitive team at George Washington University. Upon graduating, Matt was commissioned as a US Navy submarine officer. In addition to his duties as a staff officer in Norfolk, he is currently training to be a part-time instructor at DanceSportVA.