Henry and Elita (gold and black dress) Jive away at Worlds!
This year, the DanceSport Festival organized by Grün-Gold-Club Bremen hosted the World DanceSport Federation (WDSF) World Championship for the Junior II Latin division in Bremen, Germany!  One of the American couples that competed in this exclusive event was Henry Reizenson (15) and Elita Rothman (13). Henry and Elita danced two brilliant rounds and earned the rank of 28 out of 68 couples!  They were joined by their fellow USA Dance competitors, Jordan Palmer (12) and Finley Severance (13), who tied for 40th.  The championship competition took place in the Congress Centrum Bremen on June 4, 2022. 
This was Henry and Elita's second Latin world championship.  Last year (2021), they attended the Transylvanian Grand Prix, in Romania, which hosted the WDSF Junior II Latin World Championship, where they placed 33rd!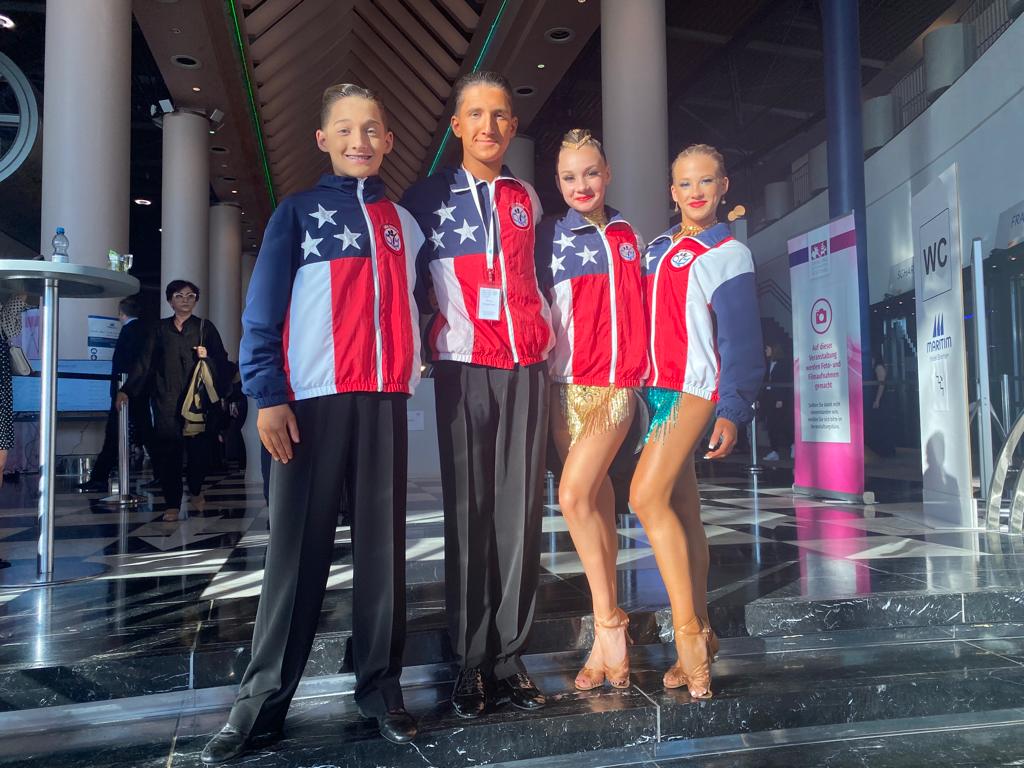 American Dancer's Alessandro Scalora sat down with the couple along with their mothers, to discuss how they felt this championship went for them.  Here is what they had to say: 
Alessandro Scalora: Once you arrived in Germany, what emotions were going through you? 
Henry Reizenson and Elita Rothman: We arrived later in the evening, approximately two days before the event.  After hours of flying, we were exhausted and relieved that we finally made it safely.  At the same time, we were very excited for what was to come.  
Alessandro: What is the first thing you did?
Henry and Elita: We went straight to sleep!!
Alessandro: How did you mentally prepare to walk onto the dance floor? 
Henry and Elita: Our coach, Vladimir Karpov, had us focus completely on ourselves.  For example, no looking at other couples, no extra chatter with our friends or family.  Complete focus.  We both agree that doing so was a key contributing factor to helping us.
Alessandro: What did your training consist of to prepare for this World Championship?
Henry and Elita: It consisted of many late nights at our studio with our coaches and fellow USA representatives.  We self-practiced, went to the gym, took many privates, attended multiple group classes, participated in meetings, etc.  With all the work we have put into this World Championship we felt that it was all well worth it!
Alessandro: Can you tell me about your support team?
Henry and Elita: We have a very big support team. First and foremost, our parents – Alla Alpert, Natalia Rothman along with our amazing fathers — which without their financial and mental support this wouldn't be possible.  We also thank our team members: Alessandro Scalora, Madeleine Mravkarov, Jordan Palmer, Finley Severance, Anton Katchourine, Liza Belikov, and the rest of our phenomenal club at the Volga Dance Academy (Atlanta, Georgia) for their constant support cheering us every step of the way.  Of course, we thank our coaches — Katrina Volgina, Vladimir Karpov, Alex and Alina Spencer, Evgenii Filipov — who stayed up with us, traveled, organized, planned, and trained us!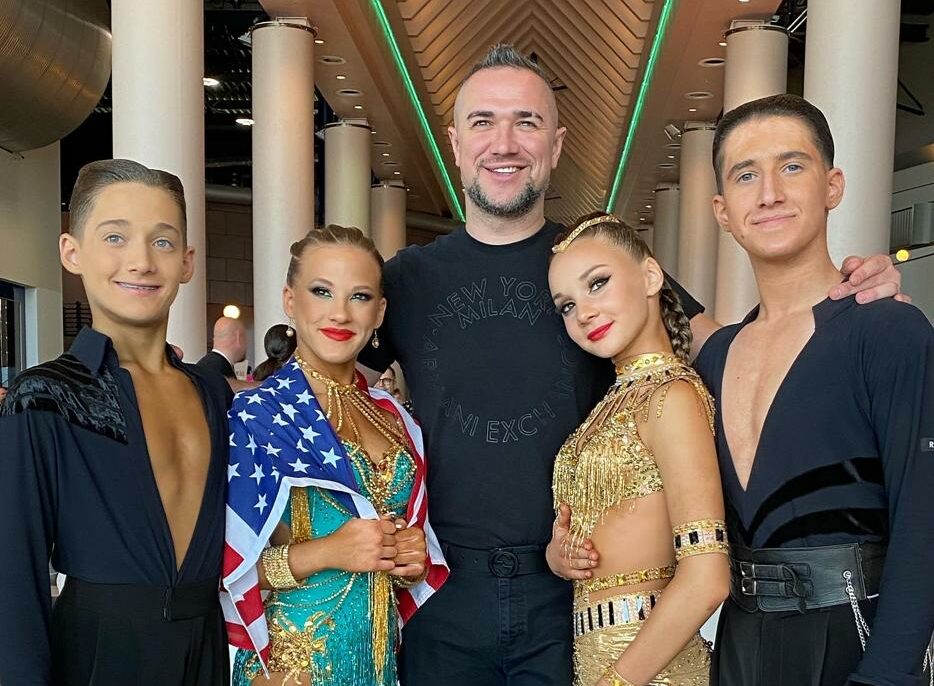 Alessandro: How did you feel this World Championship went in comparison to the Junior II Latin World Championship you attended last year in Romania? 
Henry and Elita: We both feel that we had advanced in the months in between both world championships, and we were proven right when we placed higher than last year. We were generally more prepared and ready.
Alessandro: There seemed to be a good mix of music, Ross Mitchell His Band and Singers along with the Empress Orchestra and modern pop music.  Which do you prefer and why?
Henry and Elita: There are some occasions where we like to hear familiar popular songs but thanks to our team in Bologna (Northern Italy), we have a new appreciation for the Ross Mitchell Band along with the Empress Orchestra, because that is a more proper music to dance to, especially at an exclusive event like a World Championship. How else can one truly become World Champion, if not dancing to the appropriate music?! 
Alessandro: Did you go sightseeing in Germany? What did you see?
Henry and Elita: Yes, since we had a couple of extra days before and after the competition, we took that time to explore Bremen. One of our favorites things was their market filled with fresh strawberries, tomatoes, cherries, oranges, flowers, and much more. Everything just looked and tasted amazing. It was also very historical and interesting!
Alessandro: What were your thoughts and emotions during your trip to Germany? 
Alla Alpert (Henry's Mother) & Natalia Rothman (Elita's Mother): As a parent that accompanies a child on any competition trip, we always try to strike a balance of providing support, but also giving the kids enough space to prepare mentally and physically.
For a trip of this magnitude and importance, we felt excited and proud but also nervous to ensure the logistics of all the details would work out. Especially during this competition, the kids were traveling separately, arriving about 12 hours apart. We, the parents, and the kids stayed in touch during the journey to Bremen through several delays and changes.
Alessandro: Did you have any expectations from the young dancers for this world championship and did they exceed them?
Alla & Natalia: For me personally it was important that the kids walked away from the competition feeling proud they did their best. Years from now, that's what I hope they take from this competition, knowing that they have the ability to bring their "A" game.
We have been so thankful for the opportunities and ability to travel to World Championships. We are hoping to have many more trips like this in the future wherever they may be. Romania in 2021 and Germany 2022 were great growth experiences for the kids, both as dancers and as people.
Alessandro: Well guys, thank you so much for sitting down with the American Dancer Magazine to discuss your time in Germany at the World Championship. I would like to congratulate you and wish you the best of luck in the future!
Henry and Elita: Thank you! We would like to thank the American Dancer Magazine for taking the time to spotlight us. We appreciate the opportunity to share our efforts and the fun times!