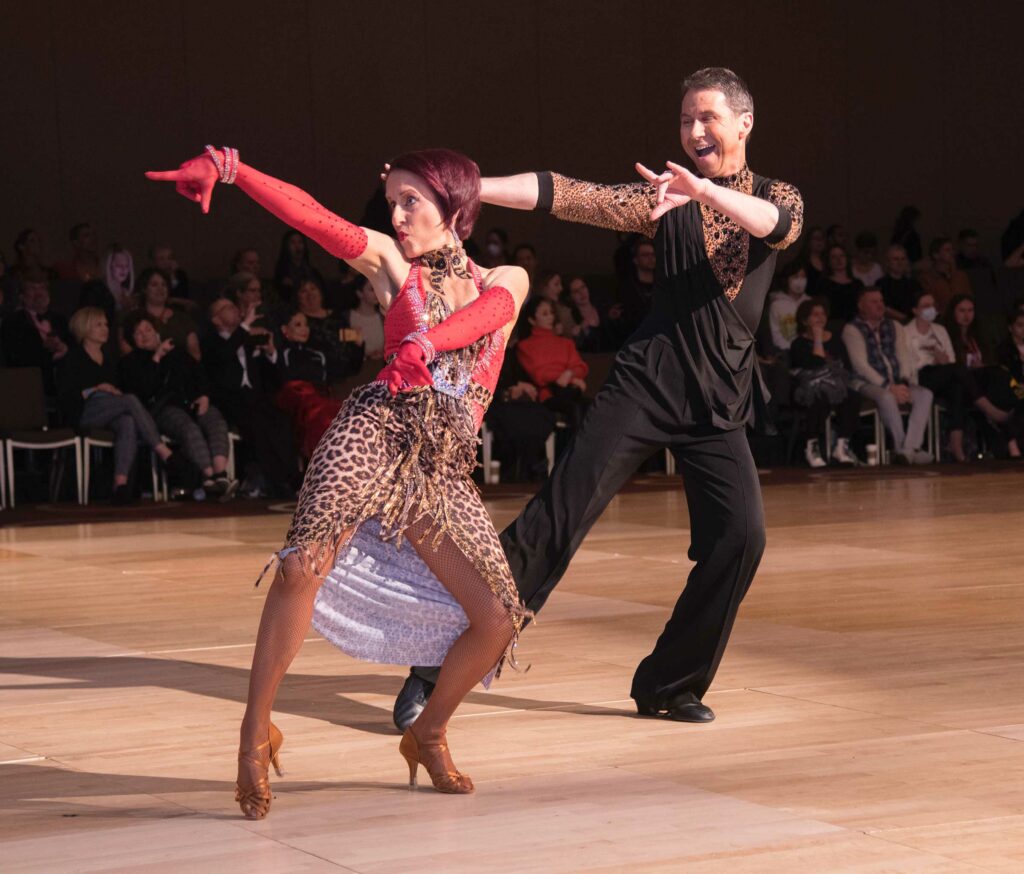 It was so nice to be back in the old ballroom.  In some ways it was completely different, but in so many more ways, it felt comfortable and friendly…familiar.  We were greeted by the handsome instructor, cleanly shaven and well dressed for the Saturday Night Social dance.  He looked wonderfully fit and still had the special charm that initially drew us into our very first dance lesson, 17 years ago.
We looked around the room and proceeded to the chairs set along the edge of the floor.  Immediately, old friends, who turned to see who just walked in, recognized us and stopped what they were doing.  They got up and walked across the floor to welcome us.  It was so good to see the familiar faces.  Conversations started about dancing, competitions, children, promotions, retirements, pets, and grandchildren.  
As the evening went on, we participated in the beginners' class and enjoyed changing partners between every new step.  There were many old dance friends that were once again smiling, hugging, and talking when they should be listening to the teacher.  And there were a few new names, we tried to quickly remember, for our next circuit around the room.  It was a great way to meet new people and say hello to everyone on the floor.  We were also happy to see some young people in the class and enjoyed their shyness as they danced the basic steps.
Then it dawned on us.  Where are all the young people that used to be at the studio?  We didn't recognize a single young person in the room.  We knew it had been a while, but were they all gone?  We thought about it throughout the night and talked about it the next day.
The truth is, Ballroom Seniors have staying power, while young people must allow life to get in the way.  There are so many demanding factors for young people:  education, sports, funds, young love, marriage, children, careers, etc.  The list goes on and on.  Seniors have most of that behind them.  They have discretionary time and get to choose how to spend it.  If they choose ballroom, they enjoy the social, mental, physical, and psychological benefits of the sport.  
For some Senior competitive dancers, ballroom is our mini vacation.  We enjoy the social side, with friends and family, and look forward to fun evenings of music, competition, and comradery.  We enjoy travel, both domestic and international, to locations we might not otherwise have considered.  We enjoy dressing up in fabulous clothes and rolling out to a crowd.  Ballroom is a common avocation.  We Senior dancers all recognize that it is too easy to let life pass you by if you don't have a pastime to make the journey even more fun.  
Then there is learning.  As young people, we did not appreciate it, but learning is fun!  Learning almost anything is fun but learning dance moves and patterns is fun, exciting, and great exercise.  There is a satisfaction we feel when we get it right.  That is multiplied when we get it right with a partner.  Maybe that is why we all smile at group lessons.  Immediate gratification is quite powerful.
As new dancers, we all tend to start, wanting to know everything and hoping to advance as quickly as possible.  In time, we begin to appreciate how wonderful it is to perfect the basics of our dancing, while enjoying the journey. 
Years ago, Dance Professional Daniel Calloway explained it by saying that our journey into dancing was like an onion, and that we would spend the rest of our dance careers peeling off the layers.  
How right Dan was.  Dancing is lifelong…more like a marathon, and less of a sprint to the end of the rainbow.  The nuggets of gold are found here and there along the way, in our special experiences, friends, new places, new choreography, fond memories, and time together with our spouses, significant others, and dance partners.  Seniors, both Social and Competitive, can truly appreciate the whole experience.
It is interesting to take note of what happened to organizations like USA Dance during the recent Pandemic.  In May 2021, as COVID 19 was starting to clear, USA Dance's membership numbers were way down.  The organization had a total of 3,811 members, of which 3084 – mostly Seniors — were social members.  At the time, DanceSport had 619 competitors of which over 400 were Seniors.  These numbers were indicative of the ballroom industry at that time, as dancing is a social sport that generally includes personal contact.  It is, however, telling that the Senior population remained dominant during this period of uncertainty. It was also these Seniors who sustained the industry: the professionals, studios, organizers, vendors, and organizations built around our favorite pastime – ballroom dancing. 
But what does this mean?  More importantly…How do we keep our Seniors and still grow our youngsters?  
Some Seniors will say that our wants, needs and desires should be the first and foremost concern of those "working" the industry.  But that is not necessarily true.  Although we can all appreciate a talented Senior III couple, they are never as exciting to watch as that talented Junior II, Youth, or Adult couple.  The Senior III couple has grace and beauty, but the younger couples are strong, exciting, fearless, flexible, and stunning.  They are constantly reaching new bounds and the future of ballroom is in their hands.  That is why the professionals pour their hearts and souls into the younger dancers, scholarships and sponsorships are plentiful for them, and their accomplishments are widely celebrated.  They are the future that we hope to develop, nurture, and keep.
So, what about the Seniors?
Newly appointed USA Dance Senior DanceSport Committee Chair Chuck Garrett, like his predecessors before him, is working on these issues from the Senior DanceSport Athlete's perspective.  "The goal of the Senior Committee is to increase the number of competitions and Senior competitors," Chuck explained.  He is hoping to build enthusiasm for the Senior competition division. "We are working for a rebirth in our division."
"Senior dancers love both social and competitive dance.  Many are longtime, loyal members of USA Dance," continued Chuck. "However, too many fear for its (USA Dance's) future, some feel unheard; others taken for granted. Many long for the good ole days when competitions were replete with quarter and semi- final heats."
The answer is compromise and it must happen at every level of the industry.  Our Senior Dancers need to remain responsible, dependable, and understanding.  But the industry must take care of and value its Seniors.  They are the ballroom backbone, as they are the clear majority, have longevity, serve in the leadership positions, remain financially sound, and they have that ever important discretionary time.  
Professionals – Coaches and Instructors – must be pragmatic.  They must nurture the young dancers but may not get lost in the excitement of youth to the detriment of their Seniors.  The backbone must remain intact and strong.  Seniors, as Social Dancers and Competitors, have staying power and are needed.  They want a convenient place to practice, opportunities to socialize, and access to good, honest, and caring instructors.  They also may need consideration of injuries and shortcomings that life has bestowed upon them.  
Competition Organizers must also be pragmatic.  They must recognize where the "dollar" is coming from.  DanceSport Athletes want well-run competitions with unbiased officials who judge what they see.  When a 2021 Senior survey was conducted, the top competition items mentioned by Senior Athletes were:  good floor, good lighting, plenty of competition, convenient location, good practice floor, and an opportunity to socialize.  Seniors seem less inclined to participate in events that are not well considered – dates and times, not well planned/organized, and not well advertised. In this age of cost prohibitive travel, these inefficiencies often prove the deciding factors.
(Of Note: Another item specifically mentioned by the past Senior Committee was the hard copy of American Dancer Magazine, which was a great recruiting tool, motivator, keepsake, and source of information.)
Social dancers want more and better supported local social dances.  Many just wish to have a fun night out of social dancing, without studio or other pressures.  Some go every week, some go once a month, and some go only on special occasions.  They are looking for a place with enjoyable music, classes, teachers, and fellow dancers. 
As for USA Dance, it is appreciated that the current leadership, like the leaders before them, is balancing a lot of issues, including consuming items that the average dancing member hasn't even imagined:  non-profit regulations, budgets, breaking, world competitions, Olympics, Special Olympics, World Games, elections, proficiency points, ranking points, rule changes, doping, recruiting, future competitions, travel stipends, hearings, certifications, sponsorships, song tempos…the list goes on.  
That said, let's look at USA Dance's numbers today.  Our total membership is 6,482, of which 71% are Seniors (in the dance industry — 35 and up).  The numbers are still very telling.
Let's not forget, the Seniors just want to dance, and USA Dance needs to keep the backbone strong, capable, and supportive.  Why?  Because, when you walk into the ballroom competition, studio, or social dance five or ten years from now, the old familiar faces will still be smiling, and most of the young ones will likely…have moved on.