Everyone who does competitive ballroom dancing in the United States, either in an amateur partnership or by doing Pro/Am, is familiar with the general structure of these competitions – they take place at a hotel where the vast majority of the competitors stay, all the vendors are at this hotel as well, competitors can change in their rooms and come down to the ballroom ready to dance, if there is an hour or more between your rounds you can go up to your room and freshen up, fully supplied and clean bathrooms are near the ballroom, food is available nearby (often just outside the ballroom), and water and cups are available in several places in the ballroom. Even if you are not staying at the competition hotel, there are changing areas near the ballroom, with a lot of space and mirrors and chairs and hanging racks. In short, I would describe these experiences as genteel – we are engaged in a beautiful activity, with surroundings to match.
But this is not the way competitions work in most of the world. My partner (and husband) Eric Austin and I, Senior III Open-level Standard dancers, have competed in many USA Dance competitions and before we started that we used to do National Dance Council of America (NDCA) Pro/Am competitions. But in the last several years, we have gone to several competitions in Europe and have found that the competition world there is very different than what we have gotten used to in the United States. The purpose of this primer is to present a guide to what amateur dancers should expect if you decide to compete outside the United States and some tips for how to be prepared. American dancers should go and compete there to represent the United States and to see how we stack up against the rest of the world. But before you go, you need to understand how those competitions are conducted.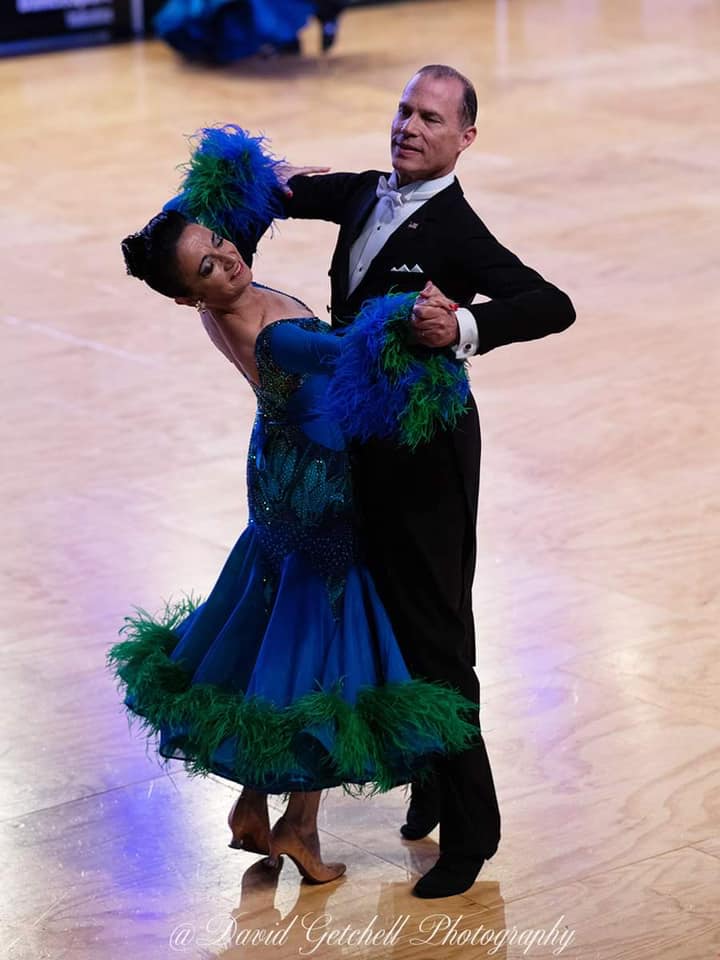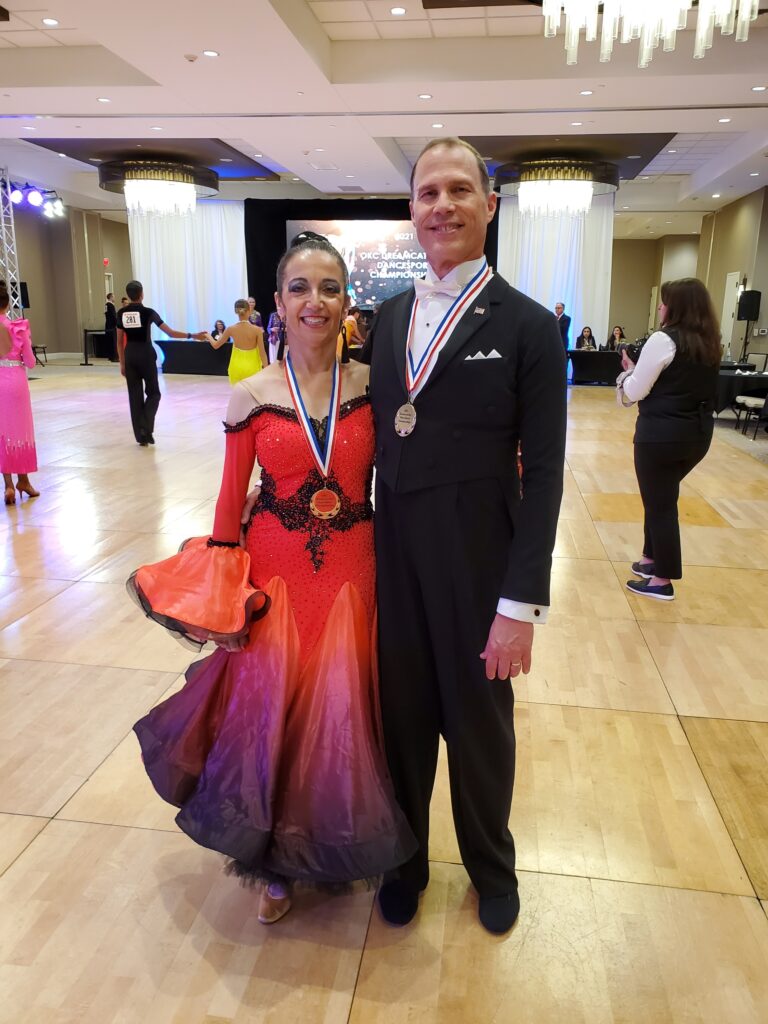 USA Dance is part of the World Dance Sport Federation (WDSF). WDSF competitions are taking place all over the world, almost every weekend. Although there are some smaller competitions, many of them have much larger events than anything you find in the United States, and they are well-attended by dancers from all over the world. The competition level is often very high with top-in-the-world dancers competing. Competing in Europe is often like moving from a small pond to a large lake. And that lake is often stocked with some big fish.
Just as in the United States, where there are USA Dance and NDCA, there are several organizations that run competitions in Europe. For Senior amateurs, WDSF provides the most international competitions, with the largest numbers of people attending and at a very high level of dancing. There are also World Dance Council (WDC, the international parent of NDCA) competitions for amateurs, including Senior dancers, although they are typically much smaller than WDSF competitions. There are also the World Dance Organization (WDO, started in 2019 with an initial focus on amateur dancers) and Blackpool, which stands on its own.
To give you an idea of the size of those competitions:
2019 WDSF Senior III Standard World Championship in Bilbao, Spain had about 180 couples.

A 'large' WDSF Senior III competition may have well over 200 couples. 
A 'medium' WDSF Senior III competition will have 60-100 couples
A "small" competition will have 40-60 couples. 

2019 Blackpool 50+ Standard had about 220 couples.
2019 WDC World, 50+ Standard Championship in Dublin had about 20 couples
2019 WDO World Senior III Standard Championship in New Jersey had about 20 couples
Membership
WDSF: Just as you have to be a registered athlete member of USA Dance to compete in USA Dance events (and similarly with NDCA) you have to be a registered athlete in WDSF to compete in WDSF events. Although USA Dance is an organizational member of WDSF, you as an athlete have to become an athlete member of (and pay the membership fee to) WDSF in addition to being a member of USA Dance. They will issue you a WDSF registration number that is different from your USA Dance membership number, and you will need to provide the WDSF number to enter any WDSF events, even in the United States.  Remember to take it with you to Europe.
Blackpool does not require you to be a member of any organization to compete. 
WDC does not require a separate membership as long as you are a member of NDCA.
WDO now has a membership requirement, but membership is free for competitors in 2022. This could change in the future.
Register for the Competition. WDSF competitions are listed on the WDSF competition calendar and they give links to the organizers. Every competition that I have seen run in Europe has a decent website with an English version that describes important information about the competition, including how to register. If you want to get an idea of how big the competition is in your events, there is also a results calendar on the WDSF site and you can look up the competition from before the pandemic to see how many couples competed. 
The only exception is WDSF World Championships. You cannot register to enter a World Championship on your own, you have to submit your name to your national organization (USA Dance) and they will send a list to the organizer. All Senior World Championships are not limited by the number of competitors from each country, but you still have to have your name submitted by USA Dance. Some World Championships (Adult, Youth, Junior II, 10-Dance) are limited to only one or two top couples from each country, so you need to talk with USA Dance to verify that you are one of those. 
The vast majority of European competitions do not take place at hotels. The venue is usually a sports complex or a convention center. The vendors, including hair and makeup people, usually set up at the competition venue. But there are exceptions, where the vendors are located at a hotel that the competition designates to be a "competition hotel". This might not be your choice of where to stay and may require additional travel. That means that you need to be prepared to go between your hotel and the venue multiple times – to get your hair done, to register, get your number, etc.
The best way to understand the difference between the European and the American competition setups is to understand how ballroom dancing is viewed there and here. In the United States, it's heavily driven by the format of Pro/Am competitions where the customers want comfort and a pleasant experience and are willing to pay for it. In Europe, ballroom dance is a sport practiced by dedicated partnerships, where the opportunity to compete against top-level dancers is paramount and creature comforts are secondary.
If the venue is a sports complex and the dance floor is a basketball court, you will likely enjoy a good size floor with good surface for dancing – neither slippery nor sticky. However, everything else about the facility will not be what you are used to:
Get to Europe with extra time before competition starts. This is, of course, a function of how flexible your schedule is, but given jetlag and the need to orient yourselves in the new place and locate the competition venue, you should be at the competition city at least a full day before the competition, and two days is better.

It would help if a trip to a dance competition in Europe is not your first trip to Europe. That does not mean that you need to have visited the particular country, but you should have some familiarity with how things function there.
You should not assume that car rental rules are the same as in the United States, or that addressing medical issues works the same as in the United States. Find out from your medical provider what the rules are, should you need to seek medical attention in Europe.
Traveling for a dance competition means you are likely to have more luggage than for just a vacation trip – suitcases, garment bags, and such. Keep track of the number of items you have and remember that airport and luggage checking rules are different from place to place. Be aware of your surroundings, just like you would be on any trip.

Be prepared for an all-day event.  Many European events feature a great number of dancers and heats.  If you are fortunate enough to make it to the later rounds, you may be there all day.  See below for particulars, but be aware that mental stamina is just as important as physical stamina for these all-day events. You need to be aware of what is happening with your event, but also give yourself the opportunity to relax.
Changing areas are small, few, crowded, coed and often without a place to hang up your costumes. You will likely be changing next to your competitors, males and females. In addition, the people doing other events at the competition, e.g., Under-21 Latin competitors, may be mixed in as well. There is no privacy in changing, modesty means turning your back to the crowd while you strip. European dancers are much more used to this arrangement than we are, and you will see Senior III dancers who have no problem with walking around in his underwear eating a granola bar and chatting on the phone, while you are changing out of your gown two feet away. This is not the time to be bashful, just ignore your neighbor and do what you need to do. 
Bathrooms at the sports facilities are not luxurious under the best circumstances, and the situation quickly deteriorates when you have literally hundreds of people getting ready to dress and dance. Bathroom stalls are small and few, the floors quickly get wet and a bit dirty, toilet paper is used up and not replenished, there are no paper towels, no drinking water, often no mirrors, and people are crowded everywhere. 
Bring some slippers that you can switch to from your dancing shoes that you do not mind getting wet. You can wear them to the bathroom or to any other area in the building where the floors are wet or dirty. Think of somebody dropping a piece of a banana on the floor and somebody else stepping on it. Do you really want it getting on your dance shoes?
Bring toilet paper. You should have some in your shoe bag, your robe, and your suitcase. You get the picture. This will also allow you to share some of your supplies with another competitor who is caught in the stall sans toilet paper and you will make a friend for life.
Bring your own small towel or paper towels to wipe your forehead between rounds. You will not find paper towels there.
There is often no mirror if you need to touch up your makeup. Bring your own. 
Bring sanitizing wipes. To wipe the surface before sitting down on it, to wipe your hands before and after eating, to wipe your arm after you brushed against a Latin dancer who is covered in self-tanning lotion, etc.
No place to sit down. This varies from place to place, sometimes competitors are allowed to sit in the bleachers between heats and rounds, but often not. The prospect of standing in a crowded hallway for hours is not appealing.

European competitors are aware of this and will often rush into the building in the morning ahead of everybody and grab whatever space there might be – a random chair in the hall, corners of tables where competition organizers store something, stairs that are not used heavily, etc. He who hesitates is lost – grab whatever is available and then look for something better.
Some people bring a drop cloth. If you could not find any place to sit down between rounds and the floor is your only option, you can put the drop cloth on the floor and sit on that to protect your costume. You can also stand on it while changing so the costume will not be touching the floor while you are getting out of it. 
You should bring everything you need to relax/recover between heats.  Some competitors travel with a yoga mat, foam roller, massage gun, etc.

Lead's Number. Most WDSF competitions print numbers on normal printer paper.  Having a number cover (a plastic half sheet cover) or a sheet sleeve is very helpful to keep your number in one piece for the duration of the comp.  Also, be prepared that if you enter more than one age category you are likely to have a different number for each category you enter.
Randomized heats. WDSF events randomize the heats for every dance and every round. If you are in an event that has 180 competitors and dancing is done in heats of 12 couples, that is 15 heats. To assure fair comparisons between dancers (you don't want to be directly compared with the World Champion every time you go on the floor) the couples in each heat are randomized. So every time you dance it will be against a different set of couples.

Your heat assignments are posted on paper in the on-deck area and often in other places as well. When the lists are posted there is a mad rush to see the sheet, both to see if you made the cut and to see what your heat list is. Don't get caught in the crush, take a picture of the page with the heat assignments so you do not forget and do not need to run there to remind yourselves when you should be ready. Note that you will need to line up at least two heats ahead of the one you are dancing in; it's up to you to be aware when you need to be in the on-deck area. The heat assignments change every round, you don't want to miss your assigned heat because you weren't paying attention. 
Some competitions use a smart phone app – TopTurnier myHeats to manage communicating heat lists. You can find this at the Appstore.  If you want to use it, you should download this application before the competition.
Depending on which heat you are dancing in for each dance, at a large competition you could have 30 or more minutes between dances. You need to be able to rest and also warm up for each dance. While doing five dances in two hours is not physically strenuous, the mental energy to stay focused during all this time is significant and American dancers should be prepared for it. You could also be in the last heat of one dance and the second heat of the next dance, so you might have to run from the exit point on the floor right back to the on-deck area to be ready to be called back on the floor.

Re-dance. WDSF World Championships, and maybe some other large competitions, may use a re-dance system to make sure that everyone has a fair chance to be seen and properly judged. Everyone who did not get called back in the first round may dance again (the re-dance), and the judges are looking for the best of those to advance to the second round. This is a second chance to be noticed and advanced, but often only 25-30% of the couples in the re-dance are picked to advance, so the cut is pretty strict. However, it gives everyone the opportunity to dance two full rounds. An example illustrates it better than words:
Suppose the competition started with 150 couples. Everybody dances the first round, and the second round is expected to have 96 couples. Instead of 96 coming back and the remaining 54 being dismissed, top 72 are announced, the remaining 150-72=78 couples do the re-dance.  Of that, 24 of those are brought back, to join the 72 to make it 96 couples continuing into the second round. 
The re-dance could take another couple of hours. If you are fortunate to make it directly into the second round without needing to re-dance, this is your time to eat, rest, etc.
Some large competitions (but not World Championships) use the Star system to give top ranked couples a "bye" or pass in the first round or two. WDSF maintains a ranking system based on points earned in competition for every style and age group, and the top couples are designated as Star couples. For a competition with six rounds that runs from 9am to 10pm, having a bye in the first round or two can be a real blessing. But to become a Star couple you have to do multiple WDSF events and do very well in them to earn the points. Blackpool also uses a bye system based on your results from the year before.
Limited vendors, limited supplies. While the number of vendors at some competitions is amazing (Blackpool or the German Open) the number of vendors at many competitions is often limited. You might not be able to buy a pair of panty hose or fish nets or a bow tie or hair spray or false eye lashes, should something happen to yours. You need to be prepared and self-sufficient.

Drinks, water – bring your own, enough for the day. It's not always clear that the bathroom sink water is safe to drink, and water fountains are not common. 
Food – bring your own. Sometimes there is a food kiosk that sells basic food items for a few hours, but do not count on it. The food kiosk may not be open when you want it, and might have food that you cannot or don't want to eat while competing. Most people bring their own. Bananas, granola bars, anything else you need – buy it the day before and bring it with you.

No air conditioning. Unlike American hotel ballrooms that are often chilly with AC going full blast, many competition venues in Europe do not have AC. With hundreds of bodies generating heat, it becomes very hot very quickly. Make sure you drink enough water.

Heat in the ballroom should be a factor in your choice of costume. Heavy, fully covering costumes that are hard to change in and out of are less desirable than the more open ones. 

Dance Camps

Competitions will often run dance camps before or after (and sometimes during) the competition. This is an opportunity to take private or group lessons from European coaches and judges. You may want to get some recommendations from your coaches or from people who have taken lessons in Europe before you decide who to sign up with. 
The dance camp fee will usually include group lessons. You should get a schedule and location of those lessons to make sure you don't miss them.
The dance spaces at the dance camps are usually very crowded, with many lessons going on, Latin and Standard, and all ages. It can be intimidating at first, but don't stand on the sidelines. Get on the floor. 

Hotels
Since there is usually not a hotel attached to the competition venue, the choice of where to stay is left up to you. Sometimes the competition will designate some hotel to be the "competition hotel", but it does not mean it's the closest, or the cheapest. Having a hotel within walking distance to the venue is an advantage, but you should also consider everything else – cost, whether breakfast is included, quality of the hotel, public transportation, etc. Since you will end up going back and forth several times, the hotel should not be too far from the venue to save on commute time and transportation costs.
Be prepared for unfavorable weather. If you have to go between the hotel and the venue multiple times, and it's rainy or windy, and you already have your hair done… A poncho or an umbrella might be useful.
Some WDC competitions will have a connected hotel, so check if that's an option.
We have always been able to pay for the hotel with the credit card. However, some people reported that they have encountered hotels that wanted payments in cash. Find out beforehand.
Money. Do not assume that payment methods in Europe for dance-related activities are the same as in the United States. Cash in local currency is often needed, and you should be prepared.

WDSF World Championships have no charge for the competitors. However, there are often other WDSF events that are run on the same weekend and at the same venue that you can also enter. But those have entry fees and they may not take credit cards or other usual forms of payment, and instead ask for a money transfer. To save on money transfer fees, contact the organizer and ask if you could pay cash when you get there – we found that they usually will accommodate you. The payment will need to be in the local currency.
We find that it's better to go to Europe with enough cash in local currency rather than trying to exchange money in Europe. Your bank or AAA may have the best exchange rates, although they sometimes need a few days to get the currency you need, so don't wait until the last day before your departure to get money. Airport exchange places give the worst rate. To save on time and aggravation having to run around in Europe looking for a place to exchange money, estimate what you will need, and come prepared. 
Dance camps will need to be paid for in cash, for admission and for private lessons.
Ubers and taxies will sometimes take credit card, and sometimes not. It is always easier to have cash. Have some idea of what the charges should be for your trip, and always ask the driver beforehand how much the trip will be, to avoid unpleasant surprises.

Contact competition organizers

Especially for smaller events that do not get many American senior dancers, make sure to have the contact information for the organizer of your comp.  Get in touch before the competition to introduce yourself and tell them how excited you are to meet them and visit their country.  They are usually very happy to see couples who have traveled farther than usual to attend and will often go out of their way to welcome you and help you if you have a tight travel connection, need a place to practice, etc.

American dancers in Europe, politics, language, and local dancing customs

Senior ballroom dancing in Europe is very popular and very competitive. However, there are a lot of local politics in the relationships between dancers from different countries and even between clubs within the same country. American Senior dancers are largely unknown in Europe — "We are Martians," as my husband puts it — which is an advantage to us. We do not have a contentious history with anybody there, and can enjoy friendships and camaraderie that develop. We should not get involved in any local drama.
English is the official language of WDSF, and most announcements are made in English, although often with a strong accent.
Many dancers in Europe speak at least some English, but many do not. I found that people will go out of their way to understand us and to be understood. It's always appreciated by the local community if you can say a few words in the local language. Even most basic words – thank you, hello, where is the bathroom, where is the water, etc. Try to learn the counting numbers up to 15 or so, so you can understand what heat number is being danced and whether you should be lining up or not.
American politics. Most people love to criticize the politics of other countries but are sensitive to others criticizing their country. They do not hold in high regard people who criticize their own government. Thus, should there be comments or questions about American government or politics, it's important to remember that we are there to dance and to represent the United States. Dignified silence is often the best response to any controversial comments. 
Support your fellow competitors. Along with there being a USA Dance requirement for sponsored athletes to observe all rounds, it is good form to not run off once you are done dancing but continue to hang out and support your fellow athletes.
Blackpool
I want to discuss Blackpool Dance Festival separately because, well, it's Blackpool. This is where all the greats have danced, and it has an aura like no other competition does. Even if you are not planning to dance there, it's still worthwhile to come and watch. But if you want to dance there, the options for Standard and Latin Senior dancers are 35+, or 50+ events.
Register early, 5-6 months in advance.
Dancing is in the Winter Gardens, which is effectively a convention center. 
Where to stay: There are no hotels physically connected to Winter Gardens. Your options are B&Bs on the streets surrounding the complex, or a couple of hotels that are not easy walking distance to the complex but there are shuttle buses. B&Bs vary in quality but are an easy walk. Some hair/makeup vendors are in a hotel, some are at the venue. Gowns, shoes, dancewear, jewelry, music, etc. vendors can be found at both the Winter Gardens and the Imperial hotel, which also has a small practice floor. 
You will often hear that "it's a big dance floor". The floor is indeed big, but the size of heats is 22-24 couples dancing at a time, so the floor is rather crowded. 
The heats are numeric (heat 1 with couples number 1 through 24, heat 2 with couples number 25 through 48, etc.). You dance against the same people in every dance of the round.
You have seen videos of the ballroom, balconies, beautiful ceiling, etc. You see couples coming out from the back of the ballroom. The ballroom is very pretty, but the back area is like a warehouse. Cement floor that quickly gets dirty (think spilled drinks, pieces of bananas, etc.), hundreds of people milling around in various stages of undress, Latin couples spraying themselves with tanning lotion as you are pulling out your gown. Be prepared, but don't let it distract you.
They do not post lists of those who made the next round, you must wait until they call the numbers of those who made the cut to find out if you made it.
Your admission ticket covers the entire day, so even if you are eliminated in the first round, stick around to see more. There are admission tickets that get you into the ballroom, and seat tickets that get you an assigned seat. The best seats go to people who buy season tickets for the entire festival and have been doing so for many years. Those people do not typically show up for the early rounds, so you can find a decent seat in the afternoon. But in the evening for the quarters, semis and finals, the season ticket holders (many of them dance royalty) are there and dressed to the nines. You will have to stand in back or look for something in a high balcony. It may be uncomfortable, but oh what a show.
Acknowledgement:
Thank you to Allison Gonzalez and Kelly Batchelor for providing useful suggestions for this primer.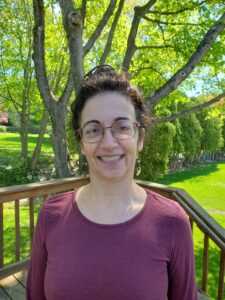 Yanina Kisler is a Senior III Standard Championship-level dancer. She has been competing together with her husband, Eric Austin, for the last six years, both nationally and internationally. Their latest accomplishments have been 2nd place at the National Championship, April 2022, and being semifinalists at the World Championship in Italy, October 2021. Yanina is an Electrical Engineer, and she and Eric have two children and two grandchildren.