It wasn't until after Renee Yao had already started competing in the International Standard style with Natasha Flowers that she realized the dance couple was breaking down barriers in DanceSport.  "Honestly," Renee said in an interview with USA Dance's Gender Neutral Committee, "I didn't think about it that way.  I was just fascinated by the way Natasha danced… I never thought, oh wow, I'm dancing with a girl.  It's going to be so different."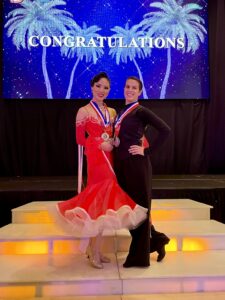 The two women were brought together by their common coach in the Bay Area of California, Ikaika Dowsett, as a solution to neither of them having a dance partner.  Natasha and Renee, who both identify as straight, cisgender women and were dancing as followers at the time, were both searching for a new partnership to continue training and competing.
Natasha already had some experience leading through her undergraduate training and teaching days at Carleton College in Minnesota, so she was able to jump into the leader position from the start.  Renee was interested in giving this new partnership a chance, although she had never danced with anyone of the same gender before.  She was immediately intrigued by Natasha's more systematic or scientific approach to solving problems of movement as a couple.  Renee had always focused more on emotions and feelings.  "We are two different but complementary dancers that share the same passion and goals," Renee summarized.
Before the two joined forces on the dance floor, they were in comparable phases of their lives and had found ballroom dancing in very similar ways.  Both lived in the Bay Area and worked in the tech industries of Silicon Valley full-time while pursuing graduate degrees at Berkeley University, albeit in different academic programs.  Both started their ballroom careers as college undergrads.  Renee danced with Berkeley's DanceSport team, but as a follower.  Natasha had learned to lead and follow at Carleton and did so successfully in collegiate competitions.  She also taught social dance classes at the college.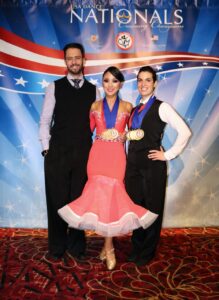 After college, Natasha moved to the Bay Area to work as a data scientist and began taking lessons offered at Stanford University.  There, she met her future coach, Ikaika Dowsett, who also taught private lessons outside of the university.  Ikaika was the one who suggested, in the fall of 2019, that Natasha and Renee try out together as dance partners.  Their strong desire to keep dancing and training for competitions and the similarities of their circumstances and priorities, made for an instant connection.
At approximately the same time that the two started training together, USA Dance announced full gender neutrality at its competitions, no longer relegating same-gendered couples to separate divisions.  The news that they could now compete together in mainstream USA Dance tournaments provided the impetus for the couple to quickly prepare for their first competition just two weeks later: the California State DanceSport Championships, a National Qualifying Event in Oakland, California.  Their determination paid off, and Renee and Natasha won both the Bronze and Silver events in the Adult Amateur category.
They went on to compete several more times in the first few months of 2020, but then the COVID-19 pandemic hit.  They were unable to practice for the first part of the pandemic, but resumed training as soon as possible, with their eyes on the USA Dance 2021 Nationals.  While they did compete and win the Bronze Adult Standard category at the Nationals, held at the American DanceSport Festival in Fort Lauderdale, Florida in the fall of 2021, there were very few competitors in attendance.  As competitions continued to rejuvenate post-pandemic, Natasha and Renee continued competing and training consistently — always with the goal of winning the 2022 National — while still juggling the demands of their professional, personal, and academic lives.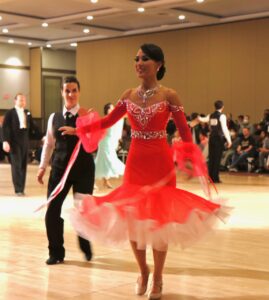 When asked about the challenges of dancing with a partner of the same gender, Natasha and Renee reflect on the positive outcome of the challenges within their partnership, rather than any negative situations caused by others.  For example, their similar weight and size mean that neither one can dominate the other just because of her size — both need to work together as a pair to move effectively and elegantly around the floor.  And both Renee and Natasha noted that this experience has made them much more conscious of being an active partner, since they know what one role needs from the other.
Natasha would like prospective female leaders to know that the switch from follower to leader is daunting at first, but not insurmountable.  Skills like initiating movement of the couple, and implementing floor craft on a crowded competition floor, took time for her to adjust to in the new role, but with consistent practice she was able to become comfortable with them.  Natasha feels that leading is actually less physically demanding than following.  "Followers have to execute most of their moves backwards, stretched to the left, and usually wearing heels!" she noted.
Renee, who occasionally leads during practice, to better understand a figure or technique, feels that the converse is also true: leading is difficult because the leader needs to be strategic, provide clear signals, give the follower enough time to react, and navigate a busy dance floor all at the same time.  Starting to learn how to lead has made her more empathetic as a follower toward the leader's challenges.
Both Natasha and Renee are grateful for the structural changes in the competitive dance world that have allowed them to compete as a couple and noted that they have received a lot of support from their training group and people they meet at competitions.  Renee hopes that more people realize that it's ok to have a partner of the same gender.  She thinks it is a much better solution than if an ambitious dancer were to leave the dance world because they couldn't find a compatible partner of the opposite gender.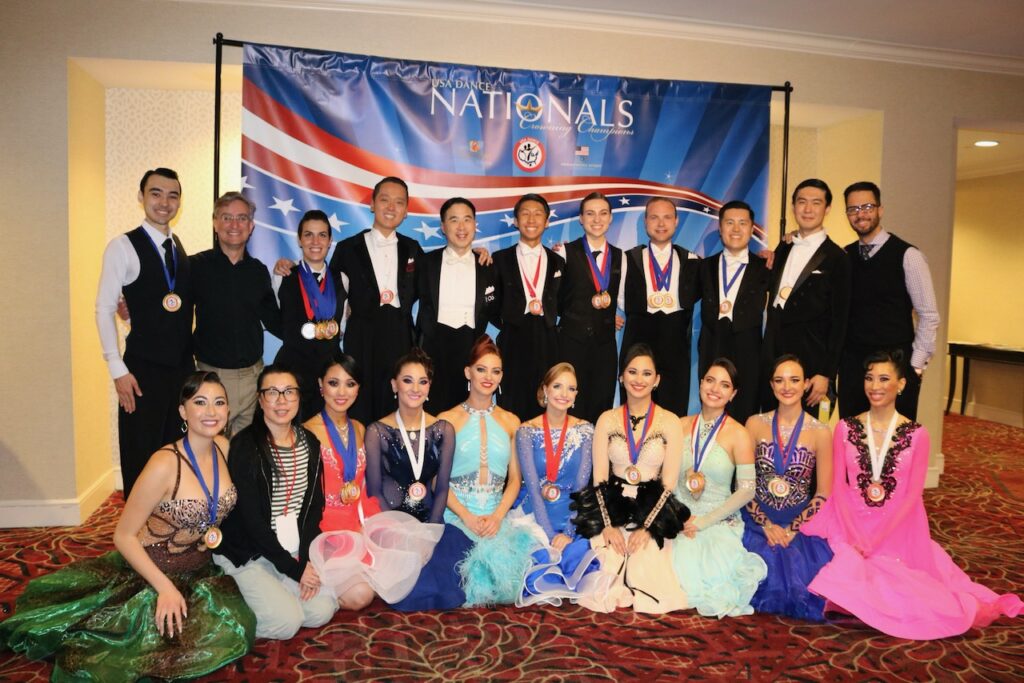 Both Renee and Natasha are very happy that they took the chance on something new and different, even though they weren't sure how it would go competitively when they started out.  They hope that their example shows others that there are lots of kinds of dance partnerships that can be successful.  Both hope that the new rules allowing all sorts of partnerships will help to keep dancers in the organization and increase the number of competitors on the dance floor.  Natasha hopes more people will come to realize that finding a partner who complements your training goals, and with whom you mesh well, is more important than what gender they are.  As Renee put it, "People should just enjoy dancing!"