If you were in the ballroom late on Friday night, March 17, during the 2023 USA Dance National Championships, you were the witness to a special treat and a little bit of history-in-the-making. 
The special treat consisted of gorgeous lines, fluid movements, partnership perfection, flashy choreography, and a flood of emotions.  The history-in-the-making was that USA Dance named its very first Open Professional 9-Dance National Champions!  And taking their rightful place on the podium to the cheers of an appreciative audience were Jang and Adele Don. 
This month, American Dancer learned a little more about this dynamic couple.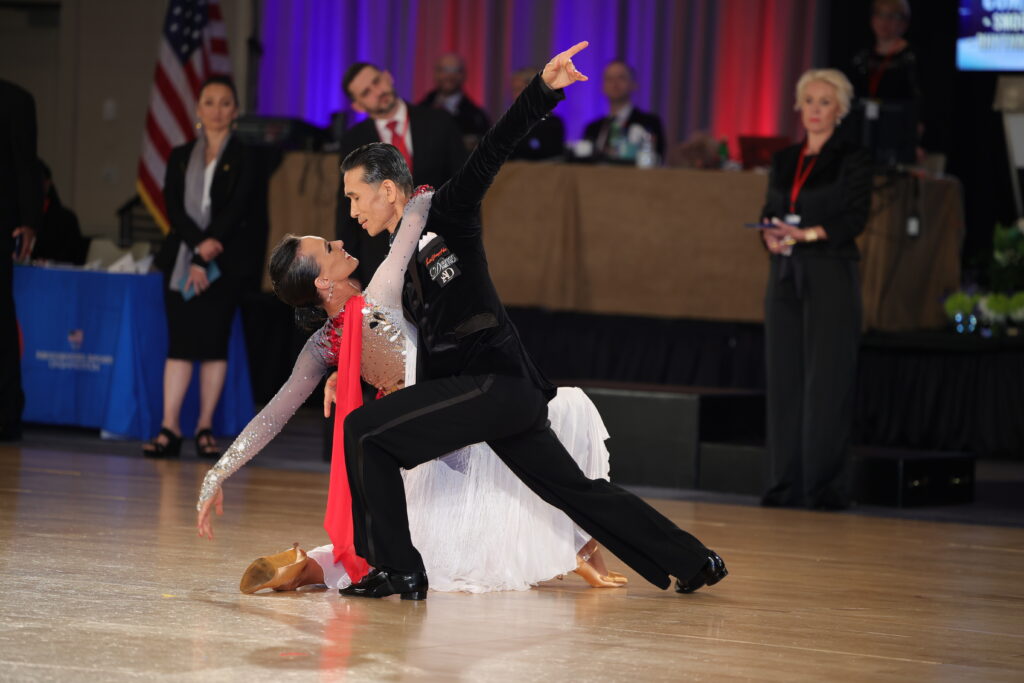 Jang and Adele Don reside in Palm Beach, Florida, where they practice and teach all levels in all four styles of ballroom – American Smooth, Rhythm, International Standard, and Latin – as well as wedding couple first dances, night club, bachata, and theatre performances.  But the couple's reach far extends past their local Florida area — Melbourne, Rockledge, Stuart, Jensen Beach, and Boca Raton.  They also teach across the United States and internationally to include England and South Korea. 
They noted that along with their own dancing, they enjoy and endeavor to educate students to perform at the highest quality.  In this way, they give back to the community today and will continue to do so in the future. 
Adele, a tall, bright-eyed beauty originally from England, spent her early years dancing in London and learning from the best and "original British Champions."  She came to New York to dance, train, and compete internationally.  While there, she earned her credentials in International Ballroom, Latin, American Smooth, Rhythm, and Theatrical Dance. 
Jang, originally from South Korea, came to the United States to train as a competitor in International Ballroom and Latin.  He is certified through the Laban/Bartenieff Institute of Movement Studies, Brooklyn, New York; holds a Master of Arts degree in Dance Education from New York University; and a Doctorate degree in Dance from the SungkyunKwan University SAMSUNG Foundation, Seoul, South Korea.  
"We believe that education is the most important factor in life and in dance," said Jang.  Amidst busy schedules, classes, and training in New York, in 2005, Jang met Adele.
"We actually got together and first competed in Latin, with our coaches being Vibeke Toft and Barbara McColl," they said. "We have many coaches in Ballroom and try to get to England to see them as much as possible.  They include: Marion and Kenny Welsh, Chris and Joanne Hawkins, Janet Gleave, Richard and Anne Gleave, David Sycamore, and Denise Weavers. Recently we revived our Smooth and Rhythm and thus we have our American Style coaches and Theatre Arts. This team is comprised of Victoria Regan, Marianne Nicole, Olga Foraponova, Slawek Sochacki and Marzena Stachura, and Rufus Dustin. Also, Esther and David Don."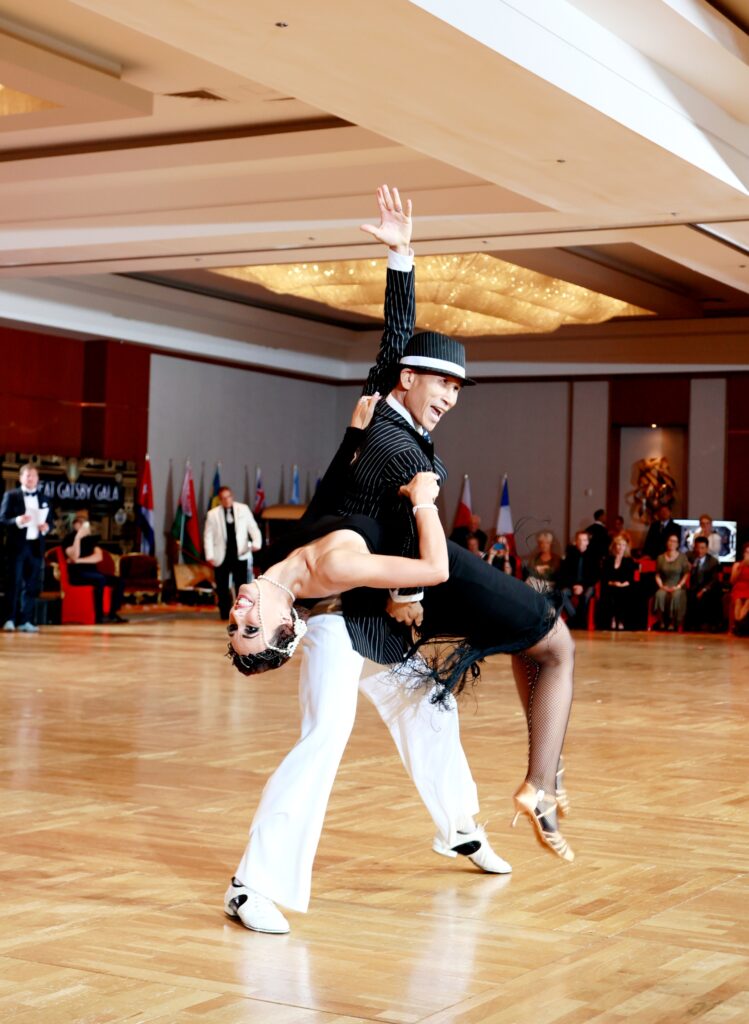 Jang and Adele married in 2008.  Since then, this 18-year versatile partnership has competed across the globe, successfully gaining distinguished titles including the 2011 British National Ballroom Show Dance Champions; 2010 United Kingdom Open Professional 10-Dance Champions; 2021 USA Dance United States Professional Smooth Champions; 2022 World Professional Peabody Champions in Dance Vision Nationals; and now USA Dance United States Professional 9-Dance Champions. 
But their dance fame has not been limited to competing on the United States ballroom floor.  Jang and Adele made many television appearances in the United States and South Korea, once winning an award for their Life Documentary in Korea.  Their aim is to make dance accessible to people of all ages and capabilities throughout the world. They are also advocates of TaeKwon Dance, as Jang is a 6th Dan Black Belt Grand Master in Taekwondo – According to World Taekwondo, the 6th Dan Black Belt is considered a high belt; the status confirms mental and physical skills and requires over ten years of training, testing, and commitment.  Adele also boasts an interesting past of freestyle Disco — As she put it… "think gymnastics, mixed with hip hop, contemporary, and modern." And, she is currently learning Tap.  Of course, this all explains the couples' unparalleled flexibility and dynamics on the floor. 
When asked about their daily training routine and competition schedule, Jang said, "Dancing gives us great health physically…We are constantly in preparation for competitions…We love to dance together so that we can spend more time together and travel as a family."  They are proud parents of their now-10-year-old son, Sunghe, who danced in a children's medalist system in Blackpool, and is currently "in a Musical Theater school learning everything: tap, ballet, acting; he has voice lessons and goes to musical theatre class."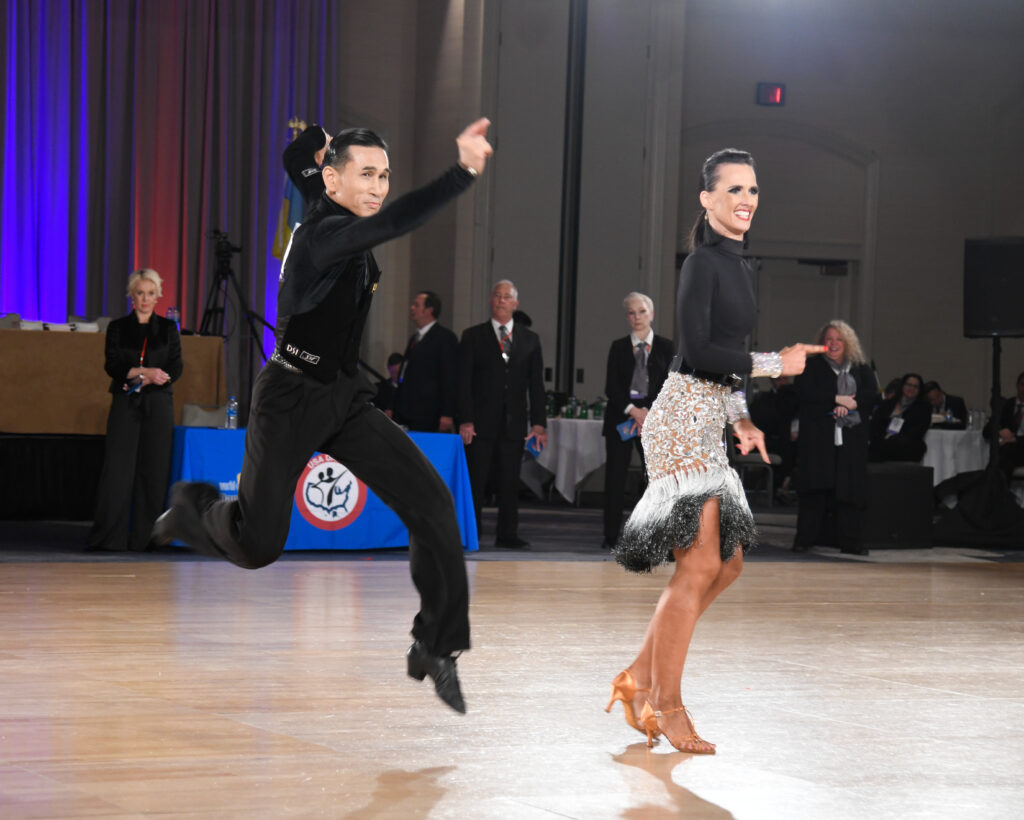 "In terms of competition, we dance for ourselves, friends, family, and the audience," they admitted.  "It enables us to connect with people, and offer something that they would not normally do or take part in."
The couple originally competed professionally in all four styles, but eventually settled for two.  Why American Smooth and Rhythm?  They agreed that the emotional quality of the American Smooth combined with the traditional rhythmic Latin music of the American Rhythm allows for more expression and emotion.  They agreed, "We have both also danced other Styles, so we like to merge our own feelings of movement together."
No doubt by anyone who watched them at Nationals, they have unique choreography and a style of their own. 
"We have danced together for quite a while now and have had so much choreography that we can work things together from the past and create new from it.  Our coaches are very close to us, especially Victoria Regan and Marianne Nicole.  They know our style and what looks best for us, so they help a great deal…We have both also danced other styles, so we like to merge our own feeling of movement together."
When asked about inspiration and goals, they had individual approaches.
"I remember as a little girl going to Blackpool to watch the Professional Latin and having Vibeke Toft pointed out to me," said Adele. "I was told this lady is the best on the floor, and then I noticed she was doing basic steps (which were at the time, what most choreography consisted of). I noticed Alemanas, Fan, and Hockey Stick…all of which I danced. That was when I thought how beautiful basic steps could be if I really understood how to do them properly…Now I look outside of our dancing world for inspiration: Victoria Regan being a star on Broadway, Martha Graham, Baryshnikov…I watch a lot of Flamenco dancers also."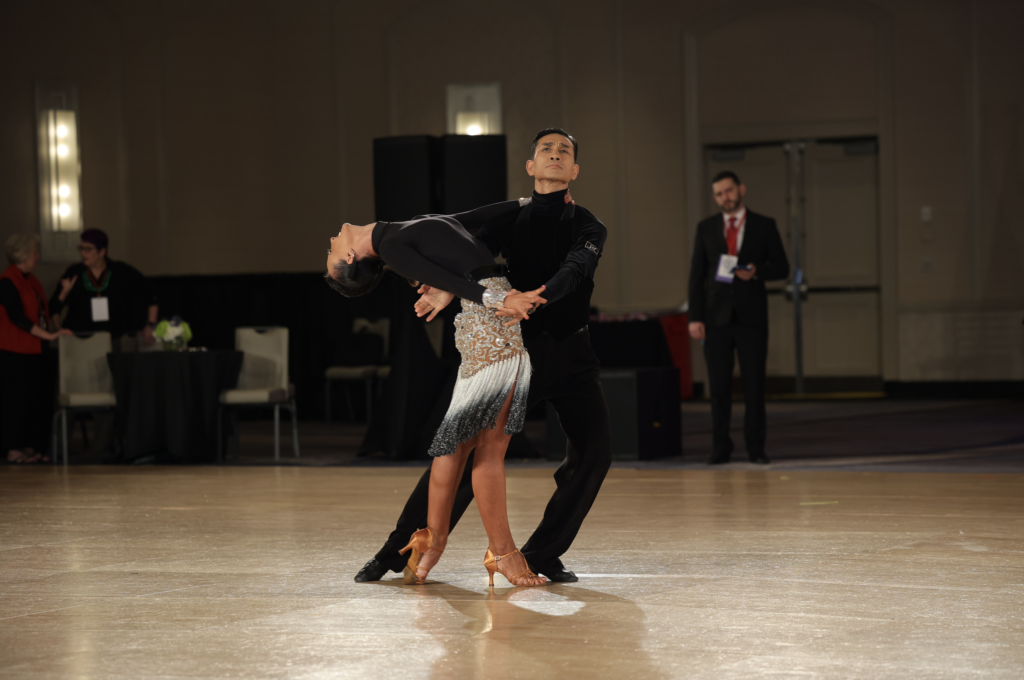 "My goal was not just to become a champion but to become an educator, and to experience many different journeys within the dancing world," said Jang. "I personally respect Barbara McColl, Marcus and Karen Hilton, and Slavik (Kryklyvyy) and Karina (Smirnoff). I absolutely cherish their performances."  He also follows an American philosopher and educator, John Dewey, whose education theory is based on positive learning and personal life experience. "I try to learn as much as I can and embody it."  Jang teaches through these guidelines and helps his students explore movement. "This cycle enables the continuous enjoyment of learning, practicing, and educating people through dancing."
"At the end," they agreed, "we both hope to inspire others to have a beautiful dance life."
Jang and Adele competed in their first USA Dance as Professionals in 2021, winning the Smooth Championship and placing Second in the Rhythm.  However, no Professional 9-Dance was offered that year.  This year, that changed, and Jang and Adele were there to perform.  "The Professional 9-Dance Championship has been on our Goal list for many years," they said.  "Although it was an absolute honor to be awarded the title, it was also a relief to know we have succeeded in one of our goals. However, with titles, comes great responsibility." 
They confessed to having "many projects under wraps at the minute, but first and foremost is the settling of our son into his new school and his recital at his theatre school."  They simultaneously are preparing students for their competition season and building their own new show.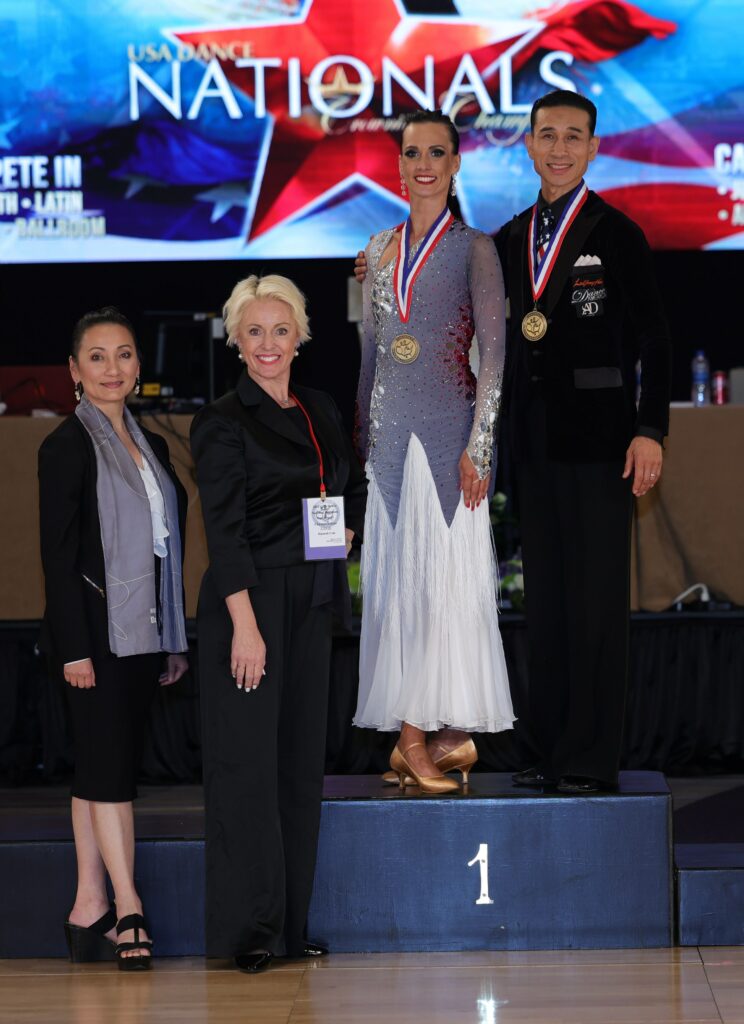 Of course, one of those future responsibilities will be defending their Professional 9-Dance title at the 2024 USA Dance Nationals, March 22-24 in Pittsburgh, Pennsylvania.  Will they be there?  "Yes," they answered confidently. "It is already planned in our competition calendar for 2024!"
So, the bar has been set in Professional 9-Dance, and dancers and spectators preparing to be at the 2024 USA Dance Nationals have something extra special to look forward to watching.  As for Jang and Adele, American Dancer wishes them well in their many endeavors and looks forward to hearing about their future accomplishments.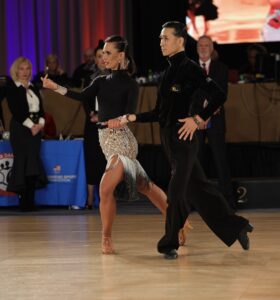 Jang and Adele Don have a YouTube channel and website — www.Jang and Adele DanceSport World.  They can also be found on Facebook and Instagram — Jang N Adele Don.  Photo by Carson Zullinger.