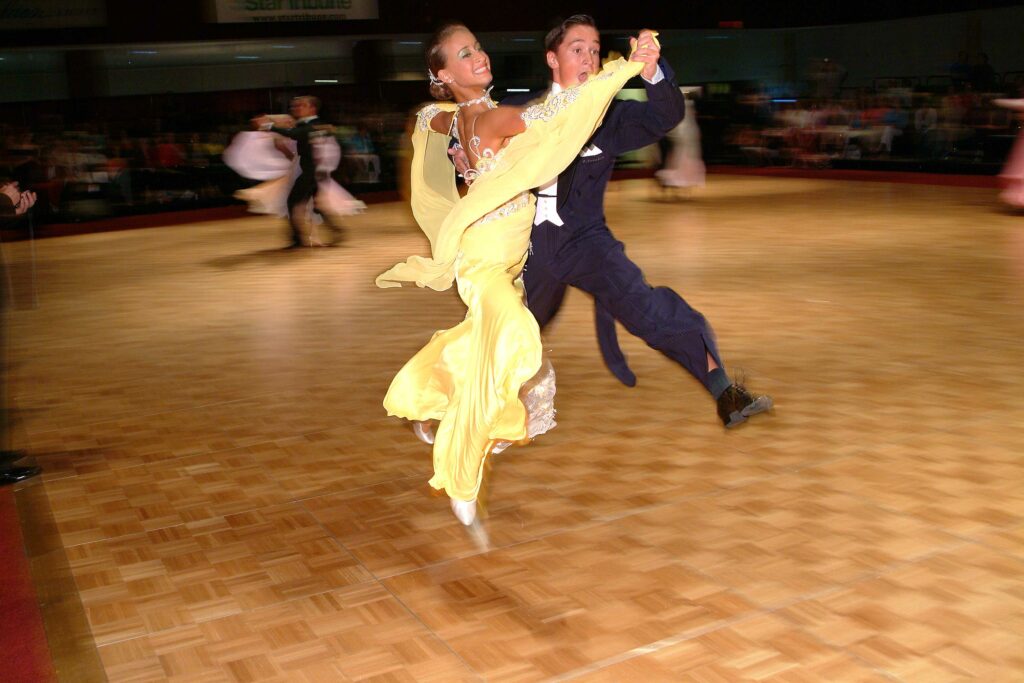 November is quick stepping by and then December, marking the end of 2023.  Where did it go?
We could talk about all the great things that happened in 2023, but that is not what this article is about.  It is about the future…2024.  And kicking off 2024 is the MAC!!!
MAC 2024 is scheduled for Friday through Sunday of Martin Luther King Weekend, January 12-14, at the Newark Liberty International Airport Marriott, in Newark, New Jersey. 
Are you on the fence about this competition?  What's in it for you?
"This MAC 2024 will be a first of its kind in many ways," said Daphna Locker, MAC Organizer and President of the Greater New York Chapter.  "It will be the first time in the MAC's 30+ year history that there will be three new events presented… There will be six WDO World Championships, and then two fun events that are free from Dance fees. These two events will provide everyone an opportunity to dance more and not have to pay to have fun."
The MAC is a 2 ½-day well-organized competition that will include events for all levels, all ages, and all styles!  It is also a Regional Qualifying event for the USA Dance National Championships, which will be held March 22-24 in Pittsburgh, Pennsylvania.  Only two months before the Nationals, MAC is strategically the perfect competition for all serious competitors, giving them a chance to test choreography, floor craft, steps, and costumes.  It is also a good opportunity for spectators to see great dancing.  This competition promises something for everyone!
"MAC 2024 is the Northeast Regional for USA Dance.  This means, that if you win your category, you become the Northeast Regional Champion in that category," explained Daphna.  "There will be the full component of all the great USA Dance events, Pre-Teen through Senior V, Newcomer through Championship."
The event line-up promises full days of great dancing and beautiful music, plus opportunities to meet new dancers and visit with friends.  Along with the Amateur competitions, there will be Pro/Am events, Professional events, and Collegiate-only events.  "Currently we have dancers from 10 Universities registered," Daphna noted.  "Many of the teams have not yet registered, but I'm hoping that they get together to register before Thanksgiving so that they can save their teams some money."  This means there will be a lot of excitement and enthusiasm surrounding the ballroom floor.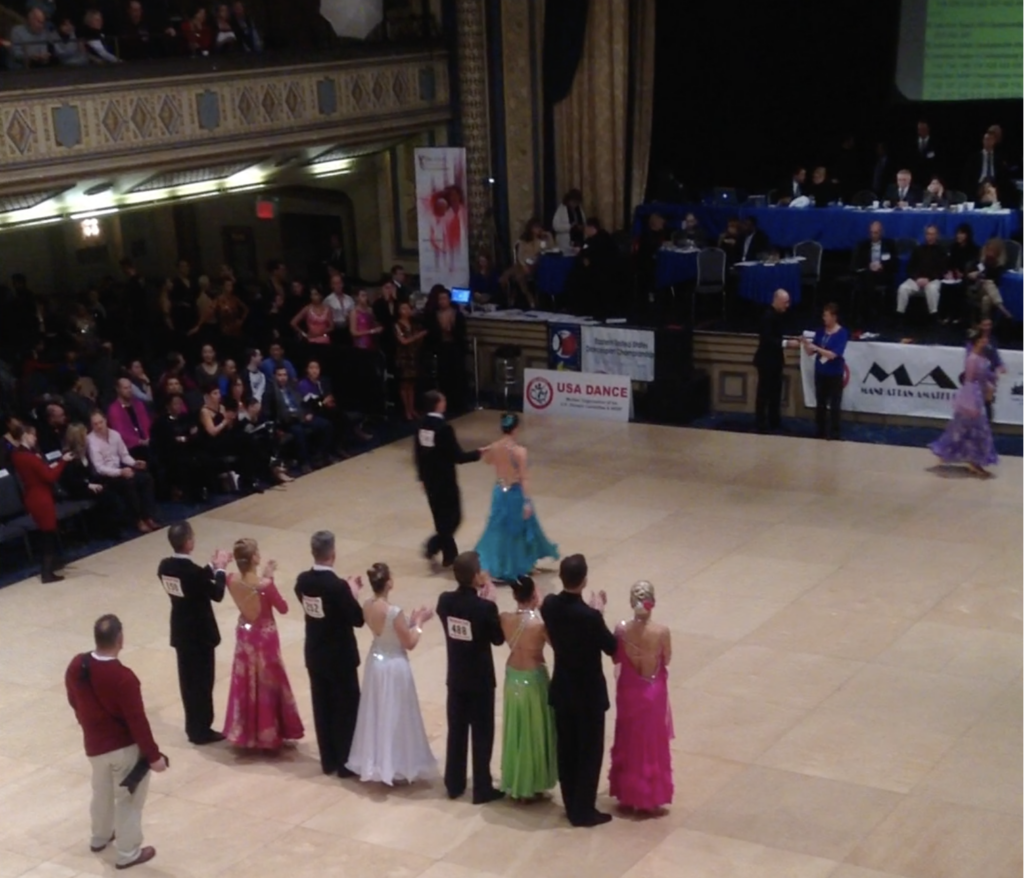 Daphna is working with fellow organizers Renata Shvarts and Lisa Spencer, and the USA Dance Greater New York Chapter, to make this competition the event of the year.  "This chapter has a 30+ year history of running the MAC and grew it from a one-day event in the 1990's to three full days in the 2000's.  Then after a break due to COVID-19, it came back last year as a two-day event.  This year, it is a 2.5-day event.  Hopefully," added Daphna, "with everyone's help and attendance we will grow back to three full days of competitions."
It already sounds tremendous, but there is so much more.  The MAC will be the first USA Dance competition to host World Dance Organisation (WDO – and yes, it is spelled with an "s") events, and they are fully committed to hosting six WDO World Championships – Senior II and Senior III Ballroom and Latin, and Senior I Smooth and Rhythm. 
Now you might be asking, "How is this going to work and who can compete in these events?"  Again…something for everyone!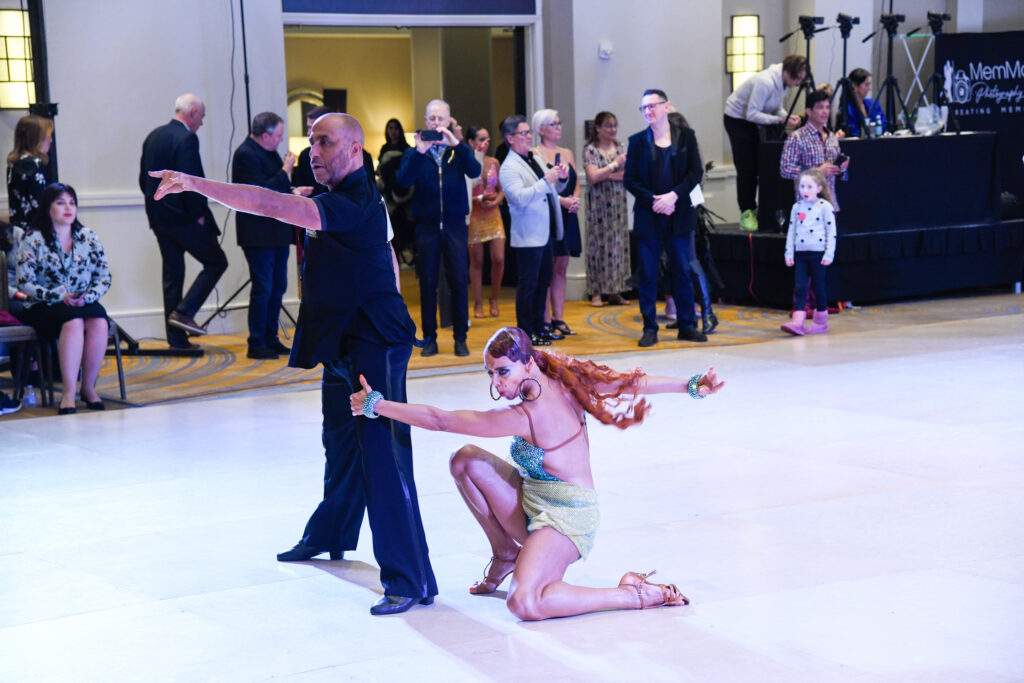 WDO World Championships: "These are considered World Championships for the WDO 2024 year, but for USA Dance they are part of the 2023 cycle," explained Daphna.  "Since these events are Open to the World events, anyone who qualifies by age and who feels that they would be a good representative for the United States and USA Dance can compete."
Including Senior I Smooth and Rhythm in the MAC's line-up of World Championship events marks a monumental moment for Smoothies and Rhythm dancers, as the last and only World Championship of this nature was the World DanceSport Federation World Championship Smooth event, hosted in 2020 by the Southeastern DanceSport Championships.  "We thought that Senior I gave the most people an opportunity to dance a World Championship," said Daphna.  "Those couples who are dancing Adult but who may be eligible to dance Senior I, could decide to do it, while the Seniors II and older, may dance down."
"In addition," she went on to say, "in the WDO events, like in the USA Dance events, gender-neutral/same-sex couples are allowed to compete.  So, if you are coming back from Guadalajara and the Gay Games, and still want to compete, come to the MAC, and maybe win a World Championship to go along with your Gay Games medal."
As the World Championships are under the WDO federation, dancers might wonder how the individual events will be judged and what rules will apply. 
"There is a full panel of WDO-certified judges, who will judge these events, including judges certified in Smooth and Rhythm," clarified Daphna.  "All patterns, including the WDSF patterns, are allowed." 
"In the tradition of the MAC, half of our judging panel is new and did not judge the MAC last year or is new to USA Dance. This will give our competitors a chance to dance in front of a panel with no preconceived notions about where they should place the couples," she explained.  "For many years, competitors have commented that they would like to have different panels at the competitions, and we are trying to make that happen."
Free Events:  This already sounds like a jam-packed weekend, but there is more.  Daphna was asked to explain the free fun events —Grading Rounds, Synchronized Dancing, and the Grand Slam Team Event: 
Grading Rounds: No one is required to do them. "Grading Rounds come from the Equality Dance world where no couple is pre-registered into any proficiency level. Rather, all couples start from square one…During the grading event, each couple will dance two dances for about one minute each, and then be graded into Level A, B or C.  The couples graded into each level will then compete against each other to determine placement.  Level A will be five dances for Standard, Latin, and Rhythm and four dances for Smooth.  Level B will be four dances in Standard, Latin, Rhythm and Smooth.  Level C will be three dances in each style.  These events are open to all competitors who want to have a chance to see how they stack up against all other competitors.  We do not care if the couple is Am/Am, Pro/Am, or Pro/Pro.  In addition, syllabus is not considered in these events.  All couples, regardless of what proficiency level they usually do, may do open steps.  This is an opportunity to spread your wings and enjoy the dance!"
Synchronized Dancing: "Think of this event as a Synchronized Swimming event, only for dancing. A couple or a group of people do the same routine, at the same time.  They dance as a team of individuals…This is a wonderful opportunity for friends to get together and choreograph a routine that they can dance together.  They don't have to be partners and don't have to worry about dancing with each other and stepping on each other's feet.  All they need to worry about knowing the choreography and dancing it together." (Note: Dancers who are interested in watching or competing in this event, might check out:  https://www.youtube.com/watch?v=BR_SzIIUJ1k or https://www.youtube.com/watch?v=Xj1dUwg5S8w)
Grand Slam Event: "This will be a fun event but will only take place if there is time…and interest. Sign-up will occur at the event itself and won't cost extra…If we have time, it will probably be held either Saturday or Sunday afternoon."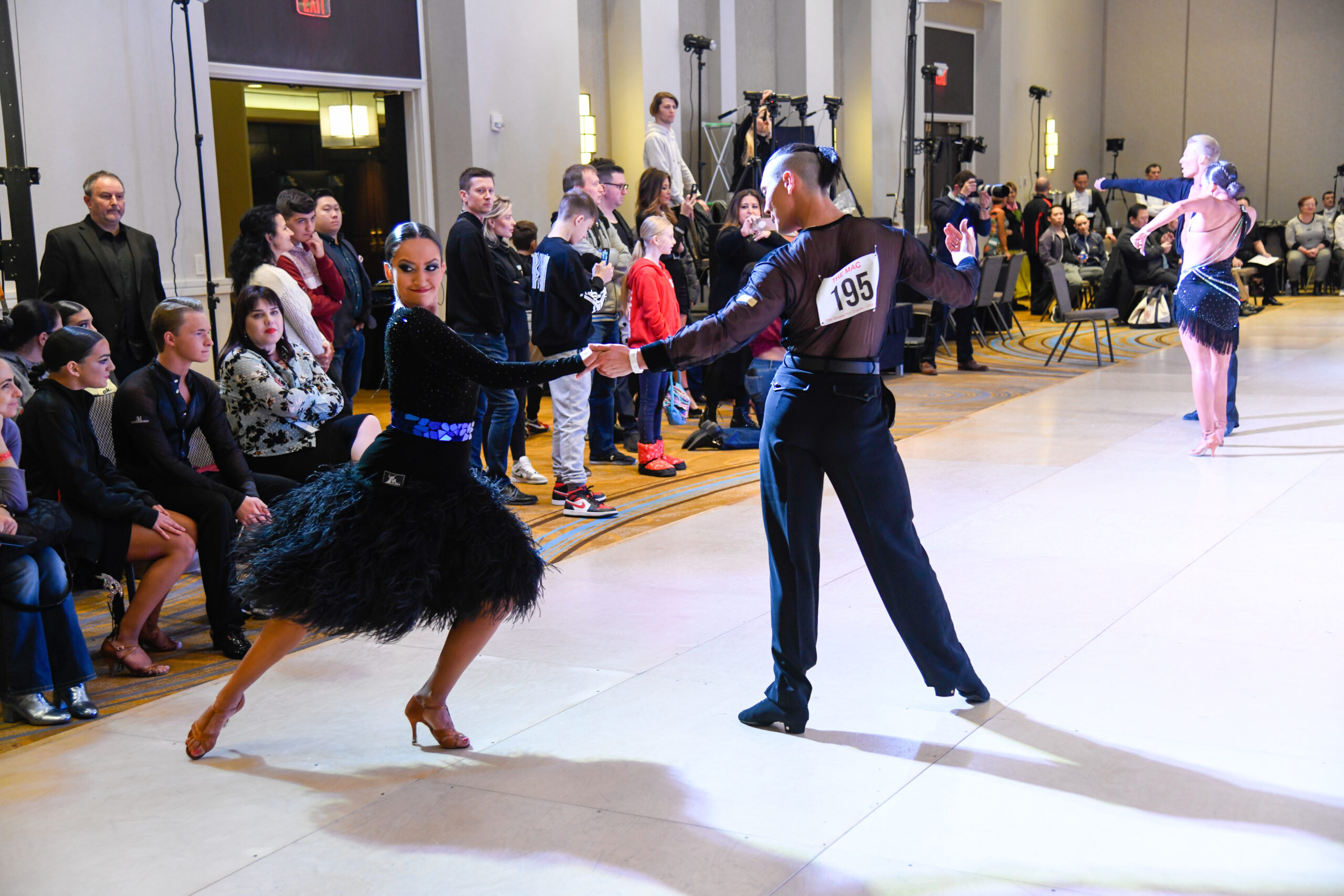 How does all this get put together?  It's not easy.  These organizers have bent over backward to accommodate dancers' past comments, questions, and concerns.  They even polled the Seniors and worked to accommodate requests to not have all their events on one day.  
What can you do to help?  Did you register already for the MAC?  Oh yes, registration opened months ago.  The organizers have been very thoughtful in setting the pricing and keeping their dance public aware.  The first discount period has come and gone, but don't panic, the next discount period ends after Thanksgiving, so you have a little time.  
MAC Registration and Pricing: "We have tried to remain true to our goal of keeping competitions reasonably priced for all concerned… including Children, Collegiates, and those Seniors who may be on a fixed income," Daphna explained.  "The MAC organizing committee feels strongly that dancing should be for everyone, regardless of income level, and we are trying our best to adhere to that principle."
Early Bird: "We started with an Early Bird Special (August 1-September 5) where the Competitor Pass (which gets you into all sessions over the entire weekend) was only $40 per Child under 18, $35 per Collegiate Competitor, $60 per Adult through Senior III and $40 per Senior IV & V. During the Early Bird Special the per dance fee was only $10 per dance across all age groups."
Until Thanksgiving: "After Labor Day, the Competitor Pass fee went up by $10/person, and per Dance fee went up by $5 per dance. The fee will go up again after Thanksgiving by $5 to $15 depending on the Competitor Pass you need and by either $5 or $10 per dance.  This means that until Thanksgiving, if you are an Adult competitor and you register and pay for your events, you'd be paying $70.00 per person Competitor fee or $140 for the couple and an additional $15 per dance.  So, if you wanted to dance Bronze and Silver in all four styles, you'd be dancing 21 dances for $315 plus the pass fee of $455 for an entire weekend of dancing and cheering your friends on."
After Thanksgiving: "The Competitor Pass fee will then go up $5 to $15 depending on the Competitor Pass you need, and by either $5 to $10 per dance."
"Entry lists will be posted after Thanksgiving/beginning of December." Daphna added. "It pays to register and pay before Thanksgiving because after the holiday, the prices go up to the Procrastinator Special, or Last-Minute Pricing…While this would greatly help the MAC balance its budget, I'm sure that no one really wants to spend more money than they must, just because they forgot to register.  Do it now (through O2CM), while you are reading this article."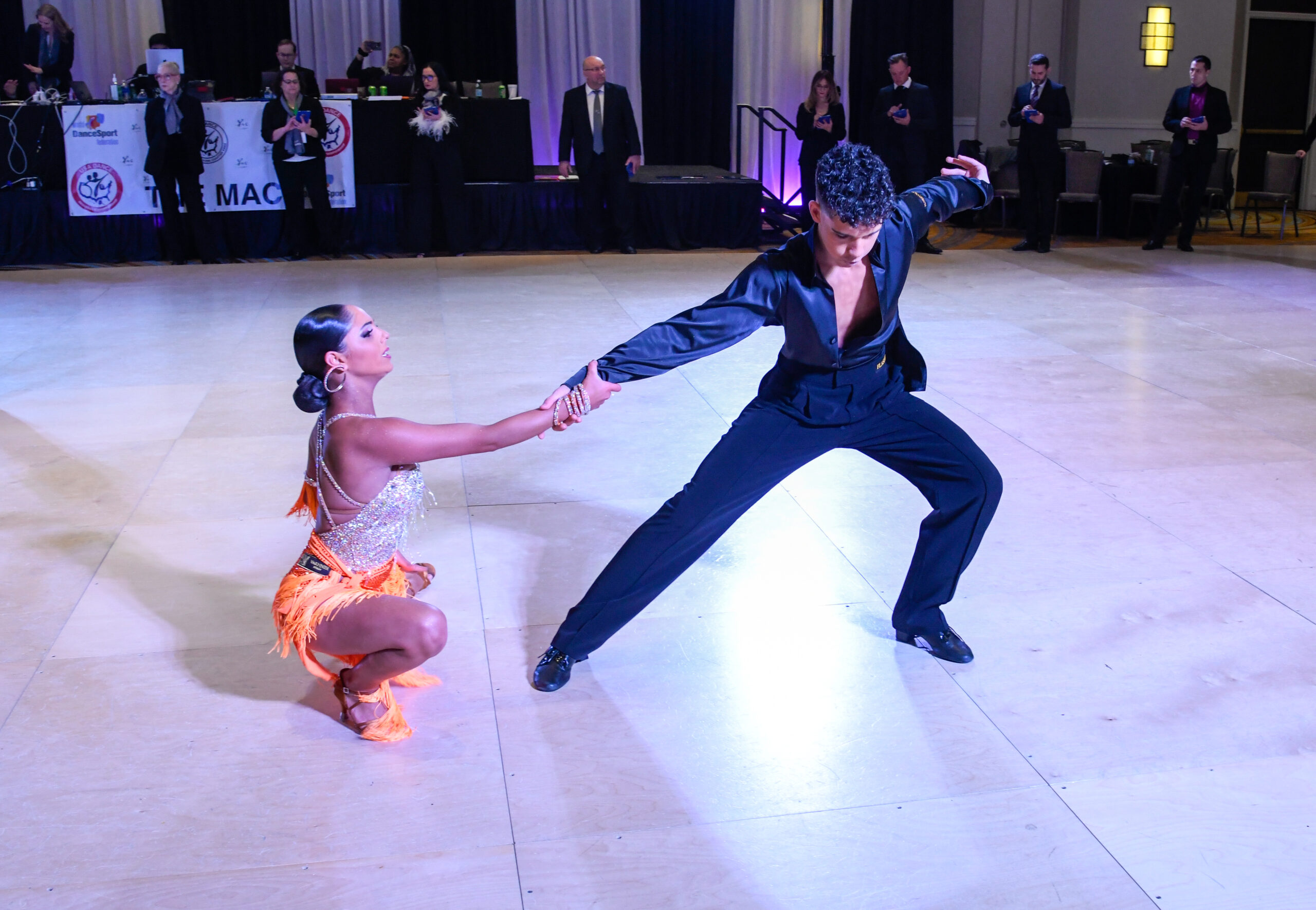 WDO World Championships Registration: To compete in the WDO World Championships at the MAC, competitors should:
Register themselves via O2CM. This should be done along with the registration of your other 2024 MAC events.  Unlike in World DanceSport Federation (WDSF) events, country permission and sponsorship through the International Advisor to the President are not required for this World event and no invitation or nomination letters will be sent. 
Hotel:  An event like this does not work without the right hotel, and the Newark Liberty International Airport Marriott, in Newark, New Jersey, meets all the needs.  It is a 4-star hotel with 591 guestrooms that boasts a 24-hour fitness center, 24-hour complimentary airport/train shuttle, hair salon, spa, laundry, two restaurants, bar and lounge, room service, plenty of parking, and – the most important thing – a large ballroom.  The hotel is located 11.1 miles from the Statue of Liberty, 2.7 miles from the Mills at Jersey Gardens, and is convenient to Manhattan through public transportation.
"The hotel deadline for reserving a room is December 23, 2023," warned Daphna, "and I've already had to increase our room block twice.  Please don't delay on either getting a room…The hotel is very reasonable (at least for the New York area) at $124.00 per night.  We negotiated a $10.00 per night parking rate for our competitors who drive to the competition and stay at the hotel." (Note: No meals are included with this price and there is a 72-hour cancellation requirement.)
"Also, while January may not be the time everyone is excited to come to the New York area, the week after the MAC is usually 'Restaurant Week' and 2for1 Broadway Week," Daphna added.  "So, after you dance, stay a little longer and enjoy great food and great theater."
What else is there?  Did we mention the Consignment shop?  There will be one of those too, along with the usual vendors.  Still not convinced?  Let's recap…Organized competition, incredibly proactive organizers, experienced chapter support, World Championship events in your country and open to everyone, Regional Championships, National qualifying events, great hotel, good prices, convenient to Manhattan…What else?  There's a camp!  And it is not just any camp, it is a National Training Camp open to everyone who would like to attend!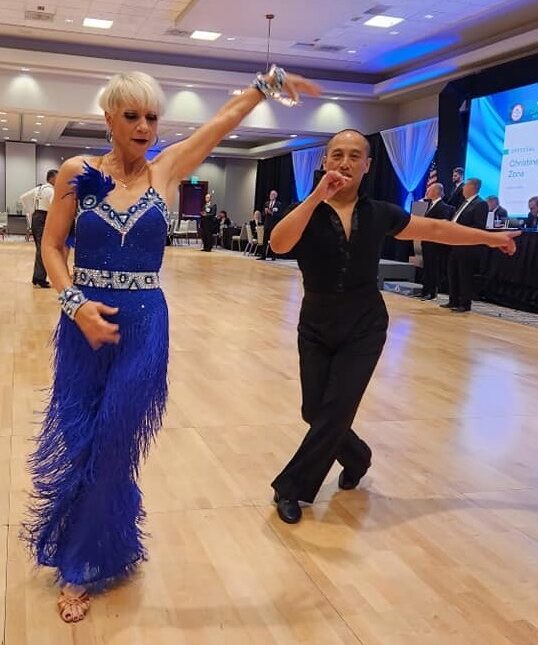 National Training Camp: "On Monday, there will be a USA Dance Training Camp," noted Daphna, "which will satisfy the new requirement (Rule 4.8.2.2 in the 2023 Rulebook) for all World Team Representatives to have attended a sanctioned training camp.  The Training camp will run from 8 a.m. to around 5 or 6 p.m., and feature group workshops, rounds, and private lessons in all four styles.  And unlike last year, where the training camp took place in Staten Island (New York), this year the camp will take place in the hotel, so all you'll have to do is take the elevator from your room down to the ballroom."
In Summary:  The 2024 MAC will be a tremendous event with truly something for everyone.  The three Organizers are thinking of their dancers first, as they put their event together.  They are quick to respond to inquiries and happy to help.  Dancers, do them the courtesy of entering early.   Families and friends, get your tickets now.  Potential sponsors, consider a scholarship donation for any age category in any event.  And anyone with a little free time, consider volunteering for a few hours. 
"Please come to the MAC and help make it a spectacular event," concluded Daphna.  "There are multiple opportunities to dance, we already have a couple of full finals and if everyone registers there is no reason that there can't be at a minimum, a semi-final in every event."
Do you need more information?  Follow these links: